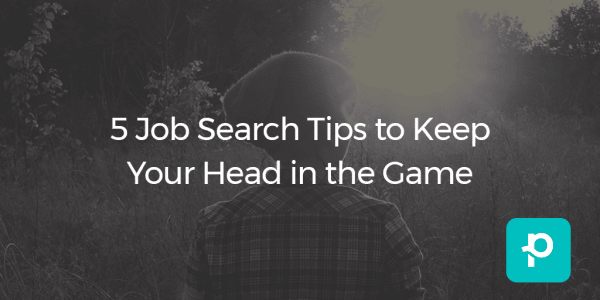 When people say, "looking for a job is a full-time job," they're not kidding. Everyone hates the job search and for good reason. It's frustrating, nerve-wracking, and incredibly time-consuming. And if you're looking for a new job on top of going to your 9-to-5 every day, you know that it's easy to want to give up and throw in the towel. So, what's a job seeker to do? How do you convince yourself to continue the hustle and get your head in the game?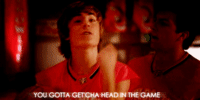 Gotta getcha head in da game. Via Giphy .
Well, there are a few job search tips (that we learned from experience) you can use to make your life a little easier:
#1 - Get organized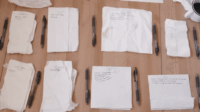 The only thing overrated about it is how many people complain & never do it right. Via Giphy .
Don't eye roll us on this one. Organization sounds overrated, but it's definitely not. Now, we're not asking you to go out and become a super planner aficionado with different colored pens and all the stickers. (Those people blow us away with those skillz btw). We're just asking that you take the time to sort out your efforts. Trust us, it will make a world of difference.
One way to do that is to create a spreadsheet with different tabs for each of your priorities: one tab for job applications, one for networking events/meetings, and maybe one for side hustles. This way, you can see all of your efforts laid out in one place and know where everything stands.
So much frustration in applying for jobs comes from you sending out your beautiful resume and having nothing to show for it. You hear nothing, not knowing where you stand, and it drives you crazy. But, if you track where you're applying, you'll know how many applications you've sent out, when you sent them, and when you should send a follow up email.
It may be just a simple spreadsheet, but it will make you feel SO much better being in the know.
#2 - Make a plan and/or schedule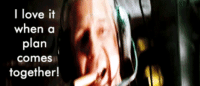 As satisfying as finishing a jigsaw puzzle. Via Giphy .
Again, this may seem like typical advice, but when you're desperately trying to find a new job while still working your current one, planning out your efforts is essential. Plan to do something to push your job search forward every day, no matter how big or small it might seem. You can do an application a day, or every other day, but whatever you decide, plan it out on your calendar and stick to it.
The best part about making a schedule is the fact that you're planning ahead! If you know you're going to have a particularly busy day at work, or have post-work plans, you can either plan to skip that day, or make make it up on another day In the long term, creating and sticking to the plan will help you feel more accomplished, more productive, and less overwhelmed with your job search.
#3 - Don't be afraid to take risks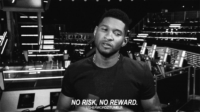 It's a mean game, but ya gotta play to win. Via Giphy .
The job search can be a scary process,but that doesn't mean you should be intimidated and afraid to take risks. After all, in most cases, the worst that can happen is that a company says "thanks, but no thanks" (or that you never hear back-- we're not sure which is worse, tbh).
See someone on LinkedIn that you admire? Don't be afraid to reach out for a chat or an informational interview. If you're not sure how to approach them, make sure to check out our article, How to Turn a Stranger Into a Professional Connection . Most people are more than willing to talk to others and share their experience, as long as you approach them the right way.
Taking calculated risks can put you in situations that help you build your confidence and grow your skills. And you never know who you'll meet or what will happen to you along the way.
#4 - Take breaks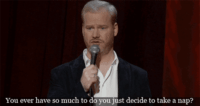 You're gonna wear yourself out if you don't make time to breathe. Via Giphy .
You absolutely want to make your schedule and stick to it, but you also make room in your schedule for breaks. Work is exhausting. Searching for a new job is exhausting. And if you work day in and day out without ever taking a break, you're going to burn out. All work and no play makes Johnny a dull boy. When you face burnout, you won't be doing your best work. So listen to us when we say breaks are necessary.
Don't abuse them, but when you take them, give your mind and body a fighting chance to relax. Turn off your phone, step away from your computer, and do something that you really enjoy to help you take your mind off of the job search craziness for a minute. After you've had that break, you'll come back feeling refreshed and ready to continue with what needs to get done. We all need a break sometimes, so don't be afraid to take yours.
#5 - Stay positive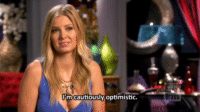 At least you're leaning towards optimistic? Via Giphy .
In Jen Sincero's #1 New York Times Bestseller, You Are a Badass: How to Stop Doubting Your Greatness and Start Living an Awesome Life , one of the main messages is that if you love yourself and send out positive vibes into the universe, the universe gives back. Maybe you're thinking, "psh, yeah right, that's a load of BS." But if you really give it a chance and put in a conscious effort to be more positive, it really works .
So if you've been spending days or weeks or even months on the job hunt with no luck, try to stay positive . It's not always the easiest thing to do, but if you get into a pit of despair, it's going to be harder and harder to dig yourself out. Even if you feel really down in the dumps, focus on the good things that are happening (like how you're sticking to your schedule). You might be pleasantly surprised on how it works out for you.
As an added benefit, not only will a positive attitude help keep you uplifted and sane, but it will show in your job applications! Having a positive attitude will help you show employers just how awesome you are. Positivity, after all, is a little like laughter (and yawning). It's contagious.
Bottom line: hang in there! Applying for jobs isn't easy, but trust us when we say that the right job is out there for you. If Britney could get through 2007, you can get through this too! And if you're looking for help with your job search, join Planted and start getting connected to the cool companies and jobs that deserve you.
Randa Kriss is a NY-based writer who has written about dogs, pop culture, and everything in between. When she's not typing furiously on a keyboard, she can be found glued to the latest hit Netflix series, talking to her cats and Corgi, or curled up with a book. You can follow Randa on Twitter @alwaysranda
Original photo from featured image by Free-Photos .