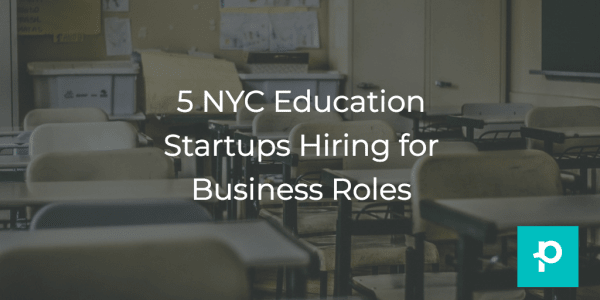 Like most things, learning isn't quite what it used to be (remember what it was like to have to look something up in a book at the library?!). Also like most things, learning has gotten even easier than ever before—just think about how many resources we have at our literal fingertips when we want to master a news skill or understand difficult concepts more easily. That's why education startups (like the five NYC-based ones we're about to tell you about) need brilliant employees just like you! Check out which education startups are ready to add your name to their attendance sheets.
1. Teachable

Who they are: You don't have to be well-versed in math, science and history to be a teacher! Teachable is transforming the way we look at learning by allowing individuals to create and sell their own courses no matter what their skill set may be. Think you can teach someone a thing or two about blogging or influencer marketing, for example? Sell that knowledge on Teachable!
Why they're great: Employees at Teachable get unlimited vacation time (score!), access to job trainings and conferences in the industry, and tuition reimbursement. But if making back the thousands you spent getting your degree doesn't make you want to hit the books again, they also have beer on tap at the office.
Who they're looking for: Marketing Project Manager, Vice President of Marketing, Customer Educator.
2. Codecademy

Who they are: Nowadays, coding skills (like Java and HTML) are helpful to have at work and beyond, and Codecademy recognizes that. They're a company focused on helping people learn how to code from the comfort of wherever they are (all for free!).
Why they're great: Company outings are the perfect way to get to know your coworkers and is one of the many cool perks of working at Codecademy. Employees also get free daily meals, snacks in the kitchen, and commuter benefits.
Who they're looking for: VP of People, Accounting Manager, Customer Support Associate, Recruiting Coordinator, Email Marketing Manager
3. Newsela

Who they are: Newsela shows students (and parents) that you can never be too young to start reading the news! The platform pulls news articles from reputable sources like The Washington Post and The Associated Press daily and creates a curated library of articles based on the user's reading level.
Why they're great: If you're an employee with a family, here's some good news: Newsela offers child care benefits, parental leave of absence and family medical leave. You can also take part in Newsela's company outings, commuter benefits and tuition reimbursement programs.
Who they're looking for: Inside Sales Executive, Editorial Assistant, Project Manager, Field Marketing Manager, Associate Product Manager, Product Marketing Manager, Sales Operations Associate.
4. Story2

Who they are: We all remember how daunting writing our college admissions essay was. Story2 takes the intimidation out of the essay writing process by providing a platform that coaches students on how to write an essay that's both personal and showcases their unique achievements.
Why they're great: In addition to paid holidays and paid time off, Story2 offers employees free lunch and free snacks in the pantry, which, if you live in New York City, can save you so much money when you don't have to constantly run to Shake Shack for food.
Who they're looking for: Product Manager, Social Media Manager
5. Teachers Pay Teachers

Who they are: Oftentimes we forget how hard teachers work to give students the education that they deserve. Think about it: putting together lesson plans is a lot harder than it looks. How do teachers know that they're really giving students all that they need to succeed? Teachers Pay Teachers is a platform that lets educators share lesson plans and resources so that teachers can do their jobs more easily and students can have even more ways to learn.
Why they're great: Teachers Pay Teachers offers employees paid holidays and paid volunteer time, so you can do some good and get compensated for the time you put into your community. The office comes equipped with beer on tap, a stocked kitchen and a game room!
Who they're looking for: Product Marketing Manager, VP of Product & Design
Have a job search that feels like you just got all of the extra credit points. Sign up for Planted and get curated job matches straight to your inbox!
Jasmin Suknanan is a freelance writer at Planted. She's been a New Yorker all her life but took a small break from skyscrapers and subways to study Journalism at Stony Brook University on Long Island. She never met a dessert she didn't like and "iced latte" is basically her middle name. She owns the millennial lifestyle blog  Macarons & Mascara  where she write about college, career, and travel. Follow her on  Twitter.