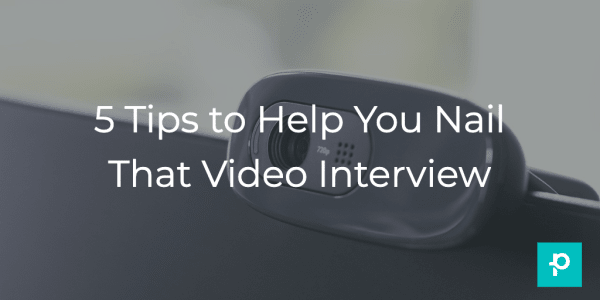 Maybe you're applying for a remote position, or the hiring manager is working out of a coworking space halfway across the world -- whatever the reason, the moment that you're invited to a video interview, you're probably thinking, "no biggie, I've got it in the bag".
But video interviews should still make you as nervous as any other interview you'd do in-person. The only difference between them is that with video interviews, there's a lot more that could go wrong. So it's your responsibility to not only prepare for the questions thrown at you, but also to get your setup #onfleek so that you're 100% in control. Check out these 5 tips to help you get your vid interview down to pat.
#1 - Dress the part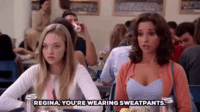 Via Giphy .
The biggest mistake that you can make with a video interview is thinking you can go into it dressed in sweats or PJs. Think about how you act and feel when you have to wear formal attire versus when you're bumming it out with friends -- it's different, right? So put yourself in the right mindset by wearing what you would normally to an in-person interview. It's a seemingly minor thing that can make a pretty big impact to the way you communicate your ideas and confidence.
#2 - Find a private spot with reliable internet
Your local coffee shop might not be the place to set up, especially if they're normally busy at the time of day you're scheduled to have your interview. You'll want to find somewhere quiet and comfortable (but not too comfortable), with internet speeds that can reliably stream video and audio without issue. Take the interview from home if you have the resources to do so.
Or if you can afford it, there are coworking spaces and on-demand meeting rooms (e.g., Breather) that you can rent out for a fee. For low- or no-cost options, check with your local labor office for their recommendations. They might even have some spots available on-site that they can offer you in a pinch.
Whatever you do, for the love of all that is good in this world, stay out of your bed. Being in your comfy cozy dojo can help you relax, but will ultimately make your interviewers feel the opposite. Sit yourself right on the floor in front of a blank wall if you have to — but your bed (or toilet or trash can) should never make an appearance. As a general rule of thumb, just make sure that whatever appears alongside you in your video is professional.
#3 - Familiarize yourself with the video software
Even if you've familiar with the video calling software, take some time beforehand to make sure you get the most up-to-date lay of the land. You won't need to memorize every little detail, of course, but at least note where to find the settings, how to mute your microphone, and how to share your screen -- just in case. With just that little extra effort, you'll seem prepared and put-together (which you totally are).
#4 - Give yourself plenty of time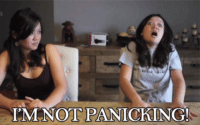 Via Giphy .
Imagine booting up your laptop just a couple minutes before your interview, only to have it take its sweet, old time to install system updates. You're frantically typing out a typo-filled email about how you're so sorry, but that your computer is acting up and that you'll be online in no time. By the time you log on to the interview, you're frantic, frazzled, and in no shape to be your best self.
Don't put yourself in that situation (you don't need that kind of negativity in your life). The time that you save commuting to an in-person interview can be reallocated to making sure you're on time and on point.
#5 - Do a test run before the real deal
Because of the tech required to take a video. interview, you'll want to be sure that you're ready to go without any hiccups. And like any other interview, practice is going to make a difference in the quality of your performance. So in order to be as poised and polished as possible, do at least a few dry runs. Fire up the laptop and video calling software, and rehearse your answers. If you can convince a friend to practice with you, all the better.
The rules don't change for video interviews just because they're in the digital world, so make sure you're still giving them your all. Once you're ready to flex those interviewing muscles, sign up on Planted and we'll find opportunities that you'll be excited about IRL.
Connie Ngo heads up User Acquisition & Content Marketing at Planted. When she's not eyeballs deep in spreadsheets, she spends her time running (from responsibilities), playing video games, and tending to her ever-growing collection of succulents.