You've finally made it to senior year. You've officially said hasta la vista to pesky liberal arts requirements and Friday classes, all the while embracing Calligraphy 101 and Wine Wednesdays. The only Debbie Downer? That larger-than-life elephant in the room you successfully ignore until Mom calls asking about your job search. If you're not a future investment banker or consultant, the beginning of the inevitable job search isn't as clearly defined. So, what's the major key to navigating that terrifying and overwhelmingly dark unemployment abyss? Informational interviews. This simple approach to the job process is critical to getting your foot in the door, especially if you're looking at highly coveted non-tech startup jobs. To prove it to you, here are five reasons why conducting informational interviews this fall will get you a job by spring.
1. Learn to Navigate the Job Search
Photo Source: staffingrobot.com
Even if you've been passionate about the industry since you were a freshman in high school, you still have to work to get your foot in the door. But even then, which door do you choose? Informational interviews allow you to speak 1-on-1 with someone who knows how to get exactly where you want to be. Let your new contact enlighten you about how to best break into the field and which openings in particular to apply to. This means that in the long run, you'll spend less time blindly applying to jobs you're not even entirely sure you're qualified for (aka: you'll have more time to binge watch the new season of Narcos).
2. Tailor Yourself Perfectly for the Application
What if you were perfectly prepared for the job application, before it was even released? Sound too good to be true? It's not, young grasshopper. Go into the informational interview armed with your updated resume, a sample cover letter, and a long list of questions. By asking what major skills you will need in the industry and for feedback on your personal documents, you'll know all of your strengths and weaknesses. This helps you strategize and tailor your cover letter and resume perfectly to fit the industry, company, or job. Ideal, amirite?
3. (Potentially) Get an Employee Referral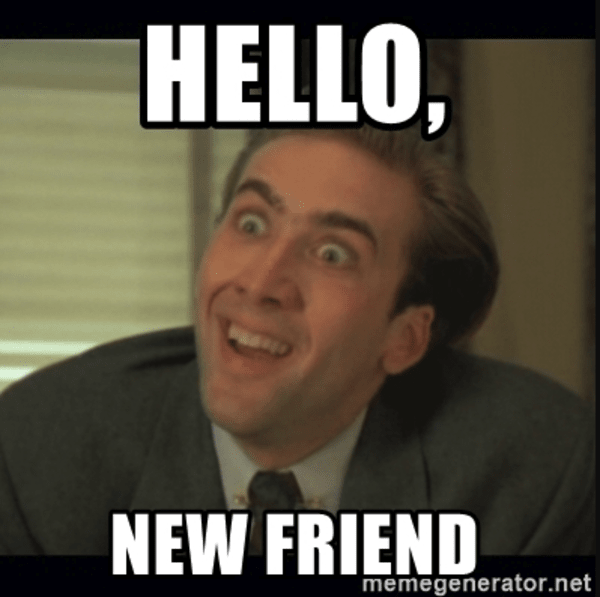 Photo Source: memegenerator.net
It may be called an informational interview, but don't go to an informational interview with an interview mindset. Engage the human behind the LinkedIn connection and have a genuine conversation with them. At startups, co-workers spend more time together than with their own roommates. They want to know that you aren't just qualified skill-wise, but that you'd be a great cultural fit for the company. If you end up having a phenomenal conversation, who knows, they might even offer to write you an internal recommendation.
4. Add an (Eager) Face to Your Resume
Photo Source: memes.com
You've sat next to Sally in every class since freshman year. You have the same major, same GPA, same extracurricular activities, same internship experiences, and now, same job applications. What's the one difference between you & Sally? The hiring manager knows you're serious about both the job and company. How does she/he know that? You got coffee with the hiring manager three months ago. By embracing informational interviews, you have successfully added your smiling and eager face to your resume, without attaching your embarrassing senior portrait.
5. Prepare for All Future Interviews
Photo Source: memegenerator.net
So, you knew everything about the company and could even recite the job description by heart-- but you didn't get the job. What's up? As much as you research and prepare for interviews, the only way to get better is to practice and know what's coming. Informational interviews are like practice rounds for the real deals. An added bonus? They help you develop the confidence that's crucial to have during job interviews. Also, don't be afraid to ask informational interviewees if their company has any curveball or unique questions they like to ask. If you were an ice cream flavor, which flavor would you be? No problem, Mr. Warby Parker. How many tennis balls would fit in a school bus? Nice try, Ms. Google.
It's easy to get discouraged by the complex world that is the job search. Informational Interviews are an easy and worthwhile way to get your foot in the door, instead of getting lost in the pile. They're worth the time, especially if you're looking into competitive non-tech startup positions.
Thinking about a career in startups? Sign up on Planted, and start applying to jobs in seconds!