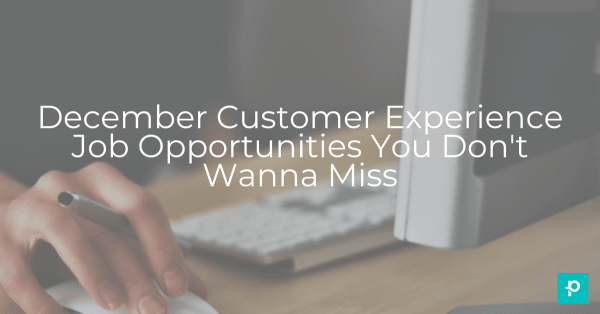 Are you the type of person who always wants to make sure people are happy? Then customer success may be your calling. Although the world of customer success is a large one, a typical customer success role has the goal of increasing customer retention and loyalty through excellent service and support skills. We've rounded up seven customer success roles across the country that are all looking for superstar candidates like you. Check them out below!

Who they are: Plated is a meal-kit service that helps even the most novice cooks create delicious, chef-designed meals simply. Customers choose from new recipes each week, get them delivered straight to their doors, and can whip up meals in a pinch using Plated's pre-measured ingredients and easy-to-follow instructions.
Why they're great: Plated employees enjoy unlimited PTO, a free four plate box every week, and a full kitchen, among other great perks.
What you'll do: The Customer Experience Associate will be responsible for assisting Plated customers with any inquiries or issues. You will handle multi-channel interactions, including inbound phone calls, email, and chat correspondence, and be an expert at Plated's policies and processes.

Who they are: Goby is an oral care startup that offers premium oral care products at a fair price. Their main product is a sleek electric toothbrush that comes in a variety of awesome colors.
Why they're great: Goby donates a percentage of sales to NYU College of Dentistry's Global Student Outreach program.
What you'll do: The Customer Experience Associate will deliver excellent customer service to Goby's customers and think of new ways to better service them. You'll also analyze customer data, trends, and feedback. You should have 1-3 years of customer experience, sales, or community development and have a high EQ.

Who they are: Candid's clear aligners help customers get beautiful, straight smiles at a fraction of the price that they'd pay at an orthodontist's office. Customers send impressions of their teeth to Candid's orthodontists and receive custom aligners straight to their home. No office visits required!
Why they're great: Candid offers its employees competitive salary, equity in the business, and medical, dental, and vision insurance.
What you'll do: The Customer Support Specialist will act as the voice of Candid, delivering superior customer service and thinking about ways to optimize customer experience and conversion. You should have 2+ years of experience in a customer-facing or operations role, have analytics skills, and have a can-do attitude.

Who they are: Avocado makes green, environmentally conscious, and ethical mattresses and other home products all at affordable prices. Their mission is to help protect their consumers' health and the planet as well.
Why they're great: Avocado donates 1% of all corporate revenues to vetted environmental nonprofits, including American Forests, Oceana, and the Kula Project.
What You'll Do: The Customer Experience Team member is responsible for developing meaningful relationships with Avocado customers and provide responsible, thoughtful, and unparalleled service. You should have at least 2 years of experience working at a call center and using a CRM tool such as Intercom or Zendesk. You should also have a strong sense of empathy and be adaptable to change.

Who they are: SiteCompli is the leading compliance solution for over 1.5 billion square feet of NYC real estate. Their solutions help property management teams work smarter and run buildings better.
Why they're great: SiteCompli offers employees unlimited paid vacation, flexible hours, and a $500 clothing budget, among other amazing perks.
What you'll do: The Customer Support Associate will manage incoming phone, email, and live chat support coverage. You will also track incoming email and phone requests, be an expert on SiteCompli's SaaS program to better help clients with their needs, and collaborate with different teams across the company. You should have 1-2 years of customer support experience, preferably in a B2B setting, and also have excellent communication skills.

Who they are: Haute Hijab is an online fashion brand for Muslim women. The company focuses on making beautiful hijabs out of a variety of fabrics and created using superior craftsmanship.
Why they're great: Haute Hijab is on a mission to empower its customers—they even have a global hashtag (#hhspotted club) so its community of trendsetters and connect with one another.
What you'll do: The Senior Customer Experience Associate will provide support to Haute Hijab's customers, build and manage its CX team, and represent the voice of the customer to the rest of the Haute Hijab Team. You should have 2-3 years of experience in CX at a startup or fashion e-commerce company (or similar), have great attention to detail, and have superior communication skills.

Who they are: BoardVitals is a physician-run company that helps practitioners prepare for licensing and initial certification exams, and more using materials from major publishers, faculty at top teaching programs, and leading specialists to create the most accurate and up-to-date training ecosystem in healthcare.
Why they're great: BoardVitals offers unlimited time off, fun team outings, and health benefits.
What you'll do: The Customer Operations Specialist will act as the voice of BoardVitals, interacting with customers via email and on the phone and consistently deliver personalized service in order to meet quality and productivity goals. You should have 2+ years of experience working in a customer service-focused environment (preferably), a happy, positive attitude, a strong sense of accountability, and ability to remain calm under pressure.
Want more jobs like these delivered to your inbox? Sign up for Planted and we'll start sending you matches ASAP.