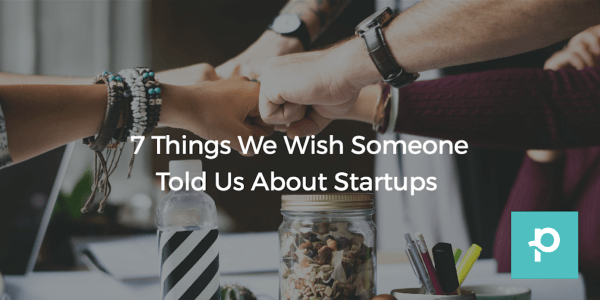 Have you ever worried that you don't quite fit the description of someone who works at a startup? Are you secretly afraid that you're destined for corporate life because you just can't seem to nail the interview process? Do you have questions about startup life that you're too afraid to ask? Well--worry no longer, because we're not ashamed to ask those questions (and then some) to get the intel for you!
We're so lucky we got the chance to pick the brains of some awesome hiring managers at very cool companies (including SeatGeek, Zola, Sweeten, CourseHorse, and LiveLike!) last month during the Breaking Into Startups panel, hosted by Planted and General Assembly. The panelists shared with us the things they had wished they'd known when they were making their moves into the startup world.
Meet Our Experts
Jamie Hooker, Director of Talent - SeatGeek
Mitch Babineaux, Talent Manager - LiveLike
Rachel Livingston, Director of Operations - Zola
Jean Brownhill, Found + CEO - Sweeten
Elise PIerpont, Chief of Staff - CourseHorse
...and Planted, your job search wingman
1. Change is the only constant
Things are about to get exciting up in here. | Via Giphy
Jean @ Sweeten: "Corporate growth is linear; startup growth wants to be all over the place, in every single direction at all times. The personality you need to have to work at a startup is one that can internalize change very quickly. It's so common to hear that someone got hired for one role, but now does something totally different, because that's where the company needed us.
We don't know what we need until someone on the team has done that job, and then we realize that we really, really need it."
Bottom line: Excelling at a startup means you need to be able to move quickly with the company and adapt at a moment's notice, since startups are focused on fast, high growth!
2. Adaptability and a positive attitude will take you a long way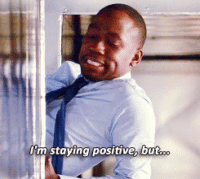 Stay positive! Unless you get stuck in a vent with an angry badger. | Via Giphy
Rachel @ Zola: "We're looking for people to fill entry-level jobs, who will grow with the company into different roles, so it's good to know that you're in it for the long-haul."
Elise @ Coursehorse: "We hire for the roles we need to fill, so don't talk too much about the career projection. I want to know that you're willing to do the job that I'm hiring for."
Mitch @ Livelike: "No one knows what we're going to be doing in a year! We need people who aren't afraid to make their own rules. I'm looking for people who are going to take charge, and make their own rules. When I'm hiring somebody that I can't necessarily test skill for, I start to think about whether or not I'd want to work with you, do I want to spend 60 or 70 hours a week with you?
I don't want you to check your personality at the door. The people who aren't afraid to be themselves from square one, tend to also be the ones who are willing to get their hands dirty and make their own rules."
Jean: I'm not sure if I totally agree with that. To a certain extent, if you just hire people who you want to hang out with, that can be somewhat limiting for the company. And I've noticed that personalities have really flourished and changed since they've been with this company, so it's hard to hire based on something so changeable.
Bottom line: Focus on the job you're interviewing for, but always be proactive and open to expanding on your responsibilities-- that's the best way to grow in the startup world, and the best way to prove to hiring managers that you definitely have what it takes!
3. Your values actually matter
Kenneth would make a great startup hire. | Via Giphy
Jean: It's not about "would I want to hang out with them." It's about the values that we hold. It's really about an orientation towards the world. We are a service company, and the question is: do I get the impression that these interviewees care about people?
Mitch: Totally! Just because we don't necessarily click instantly, doesn't mean this interviewee won't be good for our company. We had an applicant who blatantly disagreed with us in his interview, and we hired him anyway, because we realized that we needed his perspective, which was so different from ours.
Jamie @ SeatGeek: We came up with core values, which is more easily definable than company culture. The core values are a reflection of what our culture already is. So a lot of times after an interview, people say that somebody is 'not a culture fit,' but what does that mean? To us, since we have those values written down, it means that this person does not fall in line with one of the core values, and we can point to which one. We also use structured interviewing, so there are predetermined questions that we ask everyone.
Rachel: We have instances when we don't even know what new hires look like until the first day of work! I do phone interviews, and the big question is, "can they empathize with us and potential customers over the phone?" Then, we base our culture around the people who are already in the office.
Bottom line: Culture fit is more about figuring out if your values align with the company's mission and goals. There is room for everyone in the startup world, and you shouldn't shy away if you don't feel like you fit the mold (hint: there isn't one).
4. Hiring managers can tell when you're genuinely interested in their company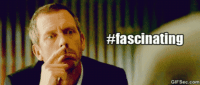 So maybe leave your sarcastic remarks at the door. | Via Giphy
Elise: "Ask good questions!"
Mitch: BE RESPONSIVE. If I send you an email, don't respond two days later.
Rachel: A really positive attitude and good energy goes a long way!
Jamie: A genuine interest in what our product is! We like it when people have actually used our product, and tried to buy something on it.
Bottom line: You'll give yourself an advantage over other candidates if you have a good attitude and are really interested in what the company does-- you need to want to be with the company, and that passion is really hard to fake during an interview.
5. It is totally possible to transition industries, as long as you position it the right way
More experience = more to bring to the table. | Via Giphy
Mitch: Write a cover letter. Explain how your previous experience relates to this new job. Own it. Explain that you are making a new change, and how your experiences will inform your abilities in this new position. And try your best not to copy and paste into the cover letter. Actually write it (because I can tell)! Be genuine about your interest.
Rachel: But...Not every hiring manager is going to read a cover letter. Find ways to talk about your experience in your resume!
Mitch: Don't be ashamed of the fact that you changed careers. It's a good thing, usually. Everything you've done up until this point is an asset to who you are going to be.
Rachel: I took a 50% pay decrease when I switched into startups. Save as much money as you can before you switch over, so you can survive!
Bottom line: Though we're not a huge fan of cover letters, on Planted you'll answer a short Q&A that'll determine if you're a good fit for a job. That's your chance to show off your transferable skills! But also be prepared for some major changes when moving into startups (like salary).
If you're thinking about moving to startups, our blog has some other awesome articles for you to check out!
6. Startup life is not all rainbows and butterflies
The situation is a little more nuanced than that. | Via Giphy
Mitch: It sucks, It's really hard. Most nights I'm not leaving the office until 9pm!
Jean: Working at a startup does not equate to work-life balance. But if you find a place that you are personally connected to, you personally feel invested in the mission, and you like the people that you work with, then it doesn't matter. But that's not necessarily the case with every startup; it's important to find the startup that you do feel connected to.
Jean: You don't just write an idea on a napkin, and it doesn't magically turns into a 25 million dollar investment. That's not real life. In the Hollywood depictions, people don't talk about the pain. The highs are so much higher, the lows are so much lower. It almost feels like, what is going on in the company is a direct reflection on you. When things are going well, I'm thinking, I built this, this is my team! But with that freedom comes so much responsibility, and when things are band, I'm thinking, I built this, I'm responsible for this failure.
Bottom line: Startups aren't just about what you see in the media; though companies do sometimes give their employees awesome perks (like working from home once a week or catered lunches), it's actually a lot of hard work. You need to be prepared to hit the ground running when joining a growing team, since this isn't for the faint of heart!
7. It's up to you to avoid burnout
Vacations are allowed, even if you have to be dragged to the airport. I Via Giphy
Elise: I like to think that we lead by example. We have unlimited vacation and our founders actually take it--and when they're on vacation, they are totally off the grid. We have flexible work hours. We don't care where you do your work from, as long as the work you committed to do is getting done. We put policies in place that empower people to find balance.
Mitch: A lot of it is about communication. If you just tell us that you're burnt out, that you need to take a couple of days off...there is freedom in startups to understand and encourage you to take a couple of days off.
Rachel: Agreed, communication. That moment when you feel yourself starting to become burnt out is when you can go to your manager and tell them, "It's taking me x amount of time to do this. It's ridiculous; is there a way to streamline the process?"
Bottom line: We're not trying to freak you out -- startup life can be exhausting, but it's possible to set yourself up for success with a little self care. It's about identifying the warning signs of possible burnout and being open and honest with your manager. A good manager will work with you to make sure you get time to recover and get back on your feet.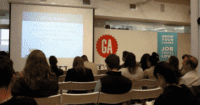 Overall, it was a pretty sweet event. See you guys next time!
---
If we haven't scared you too much and you know you have what it takes to rock #startuplife, sign up for Planted and let us help you break into the startup world!
Wish you got this great info in person? Check us out on Facebook and Twitter for future panels and events like this one. We want to give a huge shout-out to our amazing co-host, General Assembly, and our awesome panelists!
---
Yoshie Manaka is a part of the Partnerships team at Planted. She is an East Coast implant--after studying English and Studio Art at University of Redlands in California, she moved to New York to pursue a career in publishing (until she heard the call of the startup world). She prefers adventures to vacations, and spends her spare time painting, intermittently updating her website, and reading Young Adult Fiction.