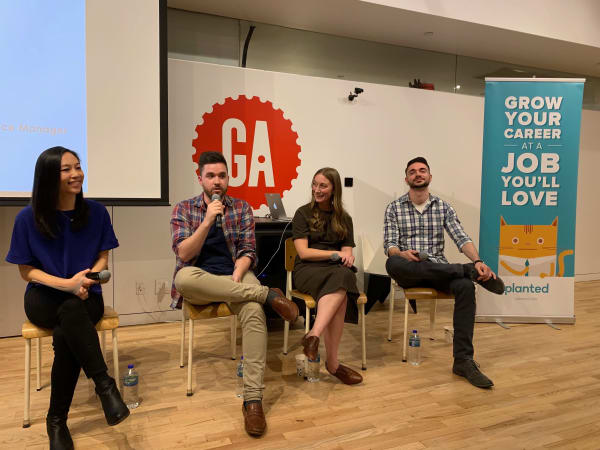 Our co-founder Connie Wong sat down with startup leaders from Zocdoc, KeyMe, and The Drone Racing League to gather insights on how to take the best, most decisive actions for maximum growth. Check out their tips on scaling your team for success.
Tell us about your company, your role, and how you got there.
Marcello: I manage the Customer Experience team at KeyMe. We're a startup that does digital duplication of keys with self-service kiosks all across the U.S. Before that, I had a lot of experience working in retail.
Ashley: I am the Head of Operations for The Drone Racing League. We put on live events and drone races across the world. This is my third startup experience working in the operations world.
Phil: I manage the New Business team at Zocdoc, which is inbound and outbound managers in healthcare and appointments. I've been here for six years, but before that I was a cage fighter with a losing record, so I started cold-calling at Zocdoc and climbed up from there.
What was the stage of your company when you joined versus now?
Marcello: When I started at KeyMe, the team was fewer than ten people. Since then, we've more than doubled the amount of kiosks that we had at that time. For the CS team, each kiosk translates to roughly 60 customer contacts per day, so that's necessitated a lot of scaling up, both of the CS team as well as the company in general.
Ashley: When I started at DRL, I was employee number seven. We had never done an event before and had no idea what a race would look like; we didn't even know if our tech was going to work. This time last year, we had a team of about 30 people and have now scaled up to a team of 65. So we are in a period of really wide growth across all functions.
Phil: When I started at Zocdoc, I was the 70th or 80th employee. We were just starting to do inside sales and saw that it was pretty efficient, so we started over-hiring for inside sales people. We scaled all the way up to around 1,000 employees and realized we needed to take a step back and get smarter about how we hire, so we shrunk and became pickier about how we hired. Now, we're growing back again in a more intelligent way.
What were some unexpected challenges that your company faced during those growing pains?
Ashley: For me, every day is an unexpected challenge. We are creating a new sport that no one knows about, so the challenge is how to create and ensure there's a customer base that's going to like it. One of the things I always fall back on is this: if you have a team that's comfortable tackling any problem that's thrown at them, there will be surprises along the way, but you'll be better suited to deal with them.
Marcello: Similar thing at KeyMe: there aren't a ton of people doing what we do, so there's no one running data on key duplication. We went into the industry completely blind. Now, we're a few years in, so we have more data and are kind of just figuring it out as we go because we're one of the only players in this space.
Phil: I would say one of the issues we first faced is that there were plenty of entry-level salespeople in the market, but we found it was hard to get somebody to leave a current company. We went through phases where we would hire a ton of people fresh out of college and not have enough experienced managers to manage them, so some of those people would phase out. Then we had to figure out how to source more candidates willing to leave their current company, which took some time to stabilize, but that's what we've been striving to do.
How can a hiring manager or startup know when it's time to scale?
Ashley: It's important to be cognizant of the idea of burnout and putting too much work on a smaller group of people. DLR has been somewhat of the opposite because we have a number of people on our team who have seen startups scale too quickly, so we're actually approaching scaling more conservatively. In the process, we've overloaded a lot of people, but it's a careful balance of how much one person can handle versus over-hiring for a small amount of work.
Phil: If I could go back in time and do something differently, it would be not scaling until we'd figured out our sales process. We came to a point where we just wanted to hire a lot of people, but we had no idea how to make that small group of new people consistently successful. Once we paused hiring and built a process in Salesforce to track with a trainer in place, we started scaling the team back up with a much greater success rate.
Marcello: About a year ago, we hired very aggressively for our CS team and ended up with a 98% answer rate on the phone, first-call-resolutions, and hour average email response times — but also a massively over-bloated CS team. The bar had been lowered a little bit, and we hired some people who negatively impacted the culture of that team. Now we've experienced some turnover and we're able to be a little bit pickier.
What new processes did you have to put in place over time to effectively manage performance and employee happiness?
Phil: Two things: first, figuring out what our opportunity stages should be to hold people accountable for moving potential doctors through the sales process without cutting corners. Second, to help retention, we had to determine the coaching process that a new hire should go through. We built these trackers to help SDRs focus on one thing at a time — people were given these small tasks and then moved to the next point in coaching.
Marcello: When I started at KeyMe, metrics weren't really looked at very much. We've had to switch mentalities, as we're looking to hire smarter. We recently hired a Director of Customer Experience who is now able to tackle technical stuff, meetings, and coaching plans that weren't in place during our first CX hiring boom, and these new processes have helped turnover a lot.
Ashley: During my first startup experience, we had no idea what we were doing and made tons of mistakes surrounding event planning and hiring. I learned a lot from that, and over the years we've implemented a lot of standard operating procedures. I was fortunate to have made big mistakes in the past and take that experience with me to DRL in order to start creating growth paths for individuals.
How has hiring at your company evolved over the time you've been there?
Marcello: Previously, KeyMe was looking for people with startup experience, whereas I was looking for people with retail and service industry experience. There are a ton of really bright, sharp, driven people in the service industry who are looking for better opportunities. In terms of our hiring process, we have interviewers looking for specific characteristics, but hiring people from retail and other nontraditional backgrounds was overall a huge success for us.
Ashley: We're getting to the stage where we have a hard-wired process for how we're going to access people as a culture fit. The type of people we were looking for first were jack-of-all-trades generalists, but over the past 3-6 months, we've been focused on creating specific lanes for people and focusing on specialties within engineering, operations, and marketing. We're not necessarily hiring people who know what it's like to work at a startup, but who want to put in the work and have a growth experience.
Phil: Over time, we slowly transitioned into the trade-based hiring model. About 2 years ago, we went all-in and tested all potential hires on 36 unique traits,then saw which traits aligned most with our top performers. During the interview, each hiring manager gets two traits and a list of questions that relate to those traits as well as a scoring system from 1-4. Then, in our interview debrief, we have a healthy debate surrounding what the scores were, why they are there, and if there were any red flags.
What has your company done to try to build or preserve culture at different stages of growth?
Marcello: KeyMe was started by three guys, so in the beginning the culture reflected that: kegs in the office and video games. It was a lot of fun! But now, rather than one general culture, we instead have committees who plan structured events where people can get together. At the end of the day, our approach to culture is less organic and more structured, but that's proven to be necessary as we've scaled.
Ashley: At my previous startup, our CEO sat us down and defined our culture. At that stage, it felt silly because we were such a small team, but that was instrumental in developing the way I see culture. At DRL, we put together a team of people across the organization who defined our values and took stock of what we believe we do and who we are. I thought that was incredibly useful and it played into who we were going to hire and how we decided who would be successful long-term.
Phil: At first, our culture was very much survival-of-the-fittest. People would cheat and steal to get that extra deal from the person next to them, which created a sort of toxicity. In the system we have now, you no longer have to fight over leads, and you no longer have to hit certain numbers. We're paying attention to the traits we hired for and evaluating on competencies. Hiring the right person is important, but how you set up the organization itself can be huge in preserving the right culture.
One last piece of advice you'd give to hiring managers?
Marcello: Back to what I said before: look into retail and people who've worked at call centers, especially bad call centers. Find people who are trucking away in a job that is completely thankless, because they are super receptive to coaching and any gratitude you throw their way.
Ashley: In early-stage startups, don't be afraid to take a risk on someone who doesn't have domain expertise. Look for smart, capable people who are eager to learn and grow and put in the effort. I think those are the most valuable people to bring onto your team in the early days and who will stay with you and be invested in what you're doing.
Phil: Across the board with hiring managers, people tend to start out with whether or not they like somebody. Instead, go into it thinking someone is a total dud with the mindset that they need to prove themselves for the right to earn the job instead of just picking someone likable.
Answers have been edited for length and clarity.