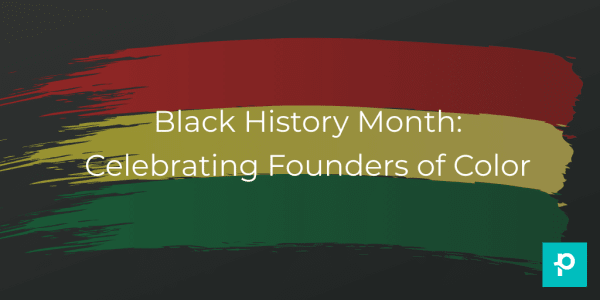 This Black History Month, we wanted to highlight four startup founders of color whose ideas are changing the game from wearable tech to sustainable energy. They're making major strides to bring changes to the industries they're in and the world we live in, so check out their stories below!
Damola Ogundipe, CEO + Co-Founder at Civic Eagle
Damola Ogundipe founded Civic Eagle for a lot of reasons; mainly, though, because "everyone deserves an educated point of view on democracy." Civic Eagle, a political advocacy platform, was born out of frustration with the lack of access to public policy information in an era where informed voting is everything. Access to information means equity, and without resources to understand the details of policy and legislation, the general public is in the dark. With Civic Eagle, Ogundipe set out to find a way to fix this disparity and create a more informed and empowered public. 
Getting Civic Eagle off the ground was a challenge. Ogundipe says he, "understood the previous pessimism," with black founders accounting for less than 1% of VC funding at a time where political tech wasn't known to provide immediate returns. Despite a huge vision for building a product that would help fix democracy, address transparency and lack of civic engagement, they still found it difficult to secure investor funding. During American Underground's Black Founders Exchange, they secured their first funding check from Arlan Hamilton of Backstage Capital for $25k, and when that first dollar hit their account, they started sprinting. Since then, Civic Eagle has raised $2.1m in funding to bring real transparency to democracy. 
Vivian Kaye, Founder + CEO at KinkyCurlyYaki 
Vivian Kaye has always been proud of her natural hair, but she's also always loved experimenting with the number of different ways she could wear it. In 2010, while watching videos online and experimenting with blending her own hair texture with other exotic textures, Kaye began searching for extensions in hair textures that were more like hers, but her search came up empty. "I was ready to say goodbye to the whole, 'African in the front, Indian in the back' thing," Kaye said. So in 2012, she sought out to create her own company to develop the highest quality, kinky, curly, and natural-looking extensions that would celebrate any woman who wears them. 
KinkyCurlyYaki was born to help each woman shine naturally, but also give them options to switch things up when they wanted to. Their products are made from 100% virgin human hair in six different texture options that make it more seamless to show the world who every woman is, while also giving them the freedom to change. 
Tayo Adesanya, Founder + CEO at Agbara Life
Tayo Adesanya is a proud Nigerian, Washington DC Native, and founder of Agbara Life. At Agbara Life, they're developing a line of wearable tech accessories — sleek, designer-grade backpacks that power the devices everyone uses on the go. Adesanya was working on a senior design project while earning his BS in Electrical Engineering at Purdue when the idea for a smart, chic accessory to power every-day life was born. From the start, Adesanya's vision stemmed from his interests in fashion, tech, and social impact; but when bringing this concept to reality, he realized that most high-end consumer products end up doing more harm than good. Adesanya wanted to make sure Agbara Life wasn't contributing to the problem and pledged to measure the company's progress based on the impact it makes on underserved communities.
Agbara Life is a benefits corporation with a mission to bridge the technology gap in underprivileged areas. The name of the company, Agbara Life, stands for power, strength, energy, and ability in Yoruba. Now, Agbara Life partners with local community organizations to bring STEM education to youth in communities that wouldn't otherwise have access. With a lifelong passion for making an impact on urban youth, Tayo Adesanya is also the Founder and President of the Bay Area Urban League of Young Professionals. 
Jessica Matthews, Founder + CEO at Uncharted Power
Jessica Matthews describes herself as a mash-up between Bill Nye the Science Guy and Beyonce. She's a builder, tester, and innovator who, while in college, helped conceive the idea for the Soccket, a soccer ball that uses kinetic energy to transform itself into a renewable, portable energy source. For those living in light poverty, this invention was revolutionary; and she didn't stop there. Inspired by those without access to reliable light and power, she's worked to create large-scale solutions to the energy disparity of the developing world with Uncharted Power. In 2016, Uncharted Power secured $7 million, the largest Series A funding amount ever raised by a black female founder. 
With the tagline: Power, Redefined, Matthews' company, Uncharted Power recognizes the urgency of the world's growing demand for sustainable and cost-efficient power. Knowing that growing power demands cannot be met with existing infrastructure, they've harnessed the ability of decentralized power to build a more accessible, resilient, and cost-effective infrastructure for a world with universal power for all.
The four superstars profiled above inspire us to take chances and think big. After all, the startup world is all about breaking barriers, standing for something, and forging your own path, and these founders surely exemplify how it's done. For more inspiration from game-changing startup gurus, check out some of our other stories here.