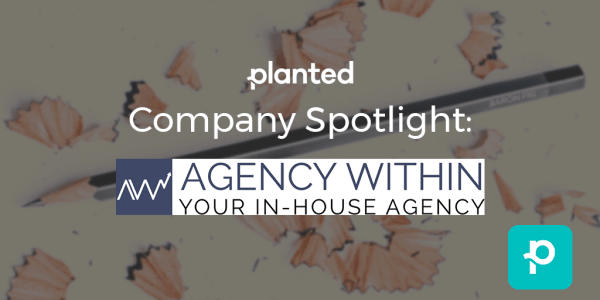 In this interview series, we ask companies we love working with to give us some insight into what they're all about. They'll share how the company got started, what it's like to work there, and what makes them different. It's your inside look to some of the coolest startups.
Today we're featuring Noelle McIsaac , who's HR Director, at one of our partner companies Agency Within .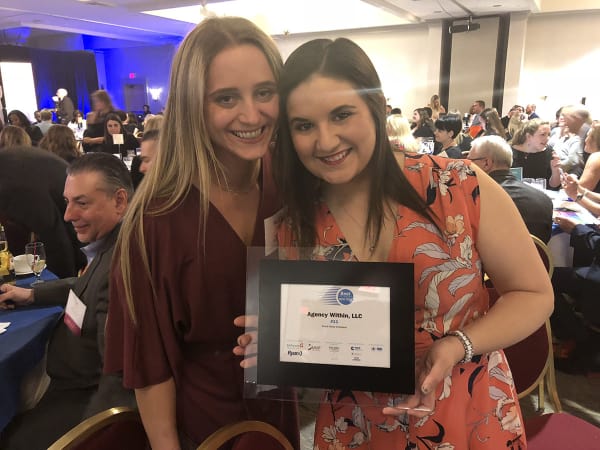 Noelle McIsaac (right), HR Director at Agency Within; with Natalie Curran (left), HR Generalist
What does Agency Within do?
We are in-house marketers with extensive experience in direct response digital marketing, working with brands in many verticals -- including retail, DTC (direct-to-consumer), travel, finance, and more -- to create & execute digital marketing strategies. Our approach is analytical and data driven; we utilize rigorous test design to validate new ideas and opportunities, and our internal culture of transparency extends out to our clients, allowing us to grow faster together and ensuring healthy relationships that build over time.
When and why was your company founded?
Agency Within was founded in 2015 because our CEO, who was never satisfied with his experience dealing with agencies, wanted to bring the "client-first" mentality to the forefront. With typical agencies, they'll black box media with hidden markups, overcharge for under-utilized or unutilized tools, and spend most of their time on selling and reporting instead of optimizing. We pride ourselves on being not just another 3rd party vendor, but rather as partners embedded within our clients' organizations. We operate quickly, onboard new channels and campaigns as soon as assets become available, and leverage a holistic approach, which allows us to be nimble and pivot strategies as quickly as needed.
How long have you worked there?
I've worked with Agency Within for almost a year and a half. I was the 10th employee and we've since grown the team to over 70!
What's your favorite thing about working for Agency Within?
The flexibility! We've really created an environment where people can take on whatever responsibilities they want -- when employees want to learn new skills or even create a new role, we happily transition them (as long as it makes sense). That's typically how all of our new functions started. The hours aren't set in stone, either.  Some people come in early, some late, some leave early, some leave late -- it's made to work with your lifestyle. Working from home is an option (though how often you can do so is team dependent, since some positions or levels of seniority require facetime). We also have an unlimited vacation policy, just as long as the work's done.
The other thing I love is the transparency. It's hard to imagine but we are 100% transparent with our employees, from salaries to client statuses, and we even encourage joining as many calls as possible because it helps our employees grow at an accelerated rate.
Tell us about the last team activity or outing your team did!
We do lots! A few weeks back, we went to a Mets game; last month we karaoke'd; and in January, we took a company retreat to New Orleans for 4 days. We try to do an activity together each month. 🙂
Any favorite spots near your office (coffee shops, bars, restaurants, etc.)?
Since we're in New York, there's no one place that we call a favorite. But we'll go out all over (Brooklyn, Queens, Manhattan), and what's nice is people can take an Uber straight from work to go out together!
Any must-see hidden gems in your area?
Our current office is in the manufacturing district of Long Island City (Queens), New York, so there's not really anything in the area. But we're moving offices, so that will be changing soon!
What do the next 12 months look like for Agency Within?
Our growth isn't slowing down anytime soon. We're doubling in size in the next few months, and I would expect to double again in the next year! We're going to keep taking on awesome clients and developing our employees both professionally and personally.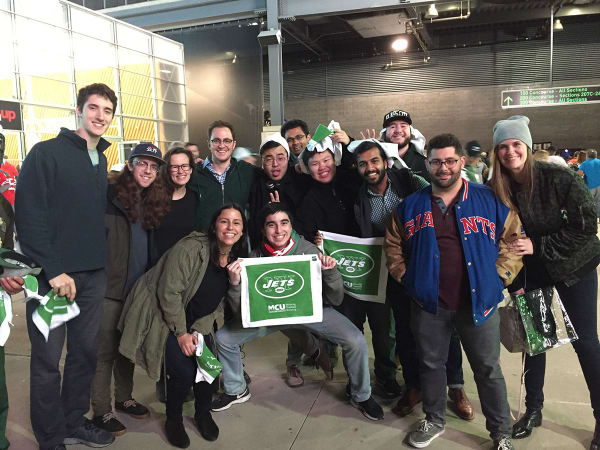 Agency Within team outing at a Jets game last fall!
Love what Agency Within has to offer to their team? You can check out their current job openings or sign up for Planted to get matched to opportunities with other amazing companies like them!