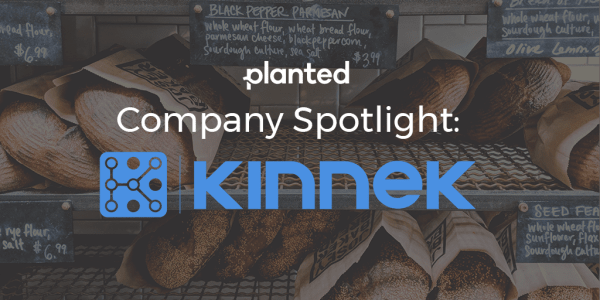 In this interview series, we ask companies we love working with to give us some insight into what they're all about. They'll share how the company got started, what it's like to work there, and what makes them different. It's your inside look to some of the coolest startups.
Today we're featuring Karthik Sridharan, who's Co-Founder & CEO at one of our partner companies Kinnek.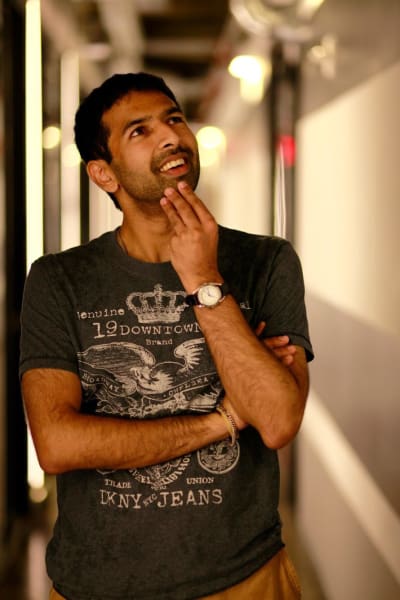 What does Kinnek do?
Kinnek is a marketplace that helps small businesses with purchasing. Think about any small business — whether it's a restaurant, a brewery, a small factory, a hotel, anything — it probably spends thousands, if not millions, of dollars every year on purchasing equipment, machinery, and bulk supplies. These are things that can't easily be found on Amazon or Ebay or at Walmart — they're specialized, customized purchases, and it's often extremely difficult and time-consuming for a small business to find even a single supplier that can help them with the purchase, let alone comparing the offerings of multiple suppliers. Kinnek takes the technology that has helped large enterprises and individual consumers with improving how they find suppliers, and makes it available (finally!) to small business owners.
When and why was your company founded?
My co-founder Rui Ma and I founded Kinnek in 2012. We had been friends since our internship days in college, and had always discussed the possibility of starting a company together. The original impetus for starting Kinnek was Rui's exposure to his family's small business. Growing up, he saw how difficult it was for his family to find the right suppliers and juggle all other aspects of operating the business. Years later when he joined a consulting firm and worked with Fortune 500 companies to improve their purchasing operations, he saw solutions that could have helped his family's business as well as millions of other small businesses.
How long have you worked there?
I've been at Kinnek since the very first day Rui and I launched the company in a coffee shop in the Flatiron District, about 6 years ago. It's been a wild ride, but I wouldn't replace it for anything in the world.
What's your favorite thing about working for your company?
It's really a surreal feeling to get up every morning to tackle a challenge that affects millions of Americans. Kinnek's mission is broad and impactful — if we achieve our mission, we'll have changed the way the economy functions at a structural level, we'll have changed how small businesses operate, improve their likelihood of survival, change the very economics of opening and running a business in the U.S. That is pretty awesome, and I feel lucky that I'm working on such a big challenge surrounded by people that I trust, that I admire, and that are so passionate about our mission.
Tell us about the last team activity or outing your team did!
Our Engineering team played bubble ball at the Astoria Sports Complex. It was....interesting. Needless to say, we generated a lot of animated GIFs to use after this event.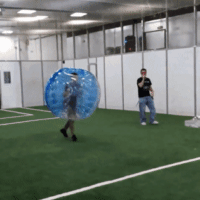 Any favorite spots near your office (coffee shops, bars, restaurants, etc.)?
We just moved to 17th Street, near Union Square. What an awesome neighborhood! I really like City Bakery on 18th Street between 5th and 6th. It's a good place for a coffee meeting, and they have these really delicious pretzel croissants. If you're looking to splurge a bit, there's a vegetarian place called Xyst on 17th Street.
Any must-see hidden gems in your area?
These are closer to our old office, but they're still pretty great — there is a really cool coffee shop that a lot of people don't know about called Paper Coffee on 29th Street. Check it out. They play jazz covers of old school 90s hip-hop in the lobby. I don't even need to say anything more, right? There's also an awesome bookstore called Rizzoli nearby that has a really interesting collection of art/design/architecture books.
What do the next 12 months look like for your company?
The rest of 2018 is going to be a whirlwind for us, I'm so excited! The big thing we're focused on this year is growth and expansion into new industries. We've been honing our product, our revenue model, and our user engagement tactics over the past few years, and it's all leading up to this moment. We're preparing to roll into many new industries (which covers hundreds of new product categories) over the next few months. Everyone at Kinnek is ready to show hundreds of thousands more small businesses what all the fuss is about! I can't wait! If that sounds exciting to you, by the way, you should definitely let me know — we are really actively looking for team members who can fuel this growth.
Kinnek is bringing the ease of online shopping to the B2B world, and they're looking for people to help them take it to the next level! Sign up on Planted and get connected with some of the coolest startups around.