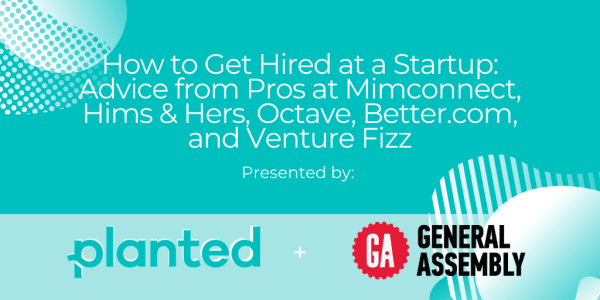 On Tuesday, January 26th, Planted and General Assembly co-hosted a panel of startup experts from Venture Fizz, Better.com, Octave, Hims & Hers, and Mimconnect. We asked them about what life is really like at a fast-growing company, what a perfect fit looks like for them, their secrets to success for interviews and beyond. But if you weren't able to attend, don't worry — we've compiled all of the most important pieces of advice from the event right here! Check out all of the need-to-know insider tips we gathered from the panel.
But first! A word about our panelists:
Our moderator, Keith Cline is the founder at VentureFizz, a national job board and employment branding website focused on the tech industry.
Netta Dobbins is the CEO and co-founder of Mimconnect, a professional community built to help BIPOC professionals navigate their careers via a digital community, workshops, masterclasses, access to career coaches and more. Dobbins' work equips Black professionals with the support they need to persevere as they pursue their passions.
Maggie Duvall is the Head of Technical Recruiting at Better.com, a Series D digital home ownership platform based in NYC. Now with over 6,000 employees, Better.com provides expertise surrounding mortgages, real estate, title insurance, and more — acting as a one-stop-shop for anyone going through a home ownership journey.
Megha Garg works as a Senior Product Manager in medical product at Hims / Hers, a digital healthcare company providing all Americans with quality, convenient, affordable healthcare. Hims & Hers telehealth platforms help to remove obstacles when it comes to obtaining personal health resources.
Sandeep Acharya is the CEO and co-founder of Octave, a mental health practice focused on increasing insurance participation for clinical judgement and technology to match people with mental healthcare providers. Acharya comes to Octave with experience in both series B startup environments and professional services and investments.
Why Startups? What made you want to work at a startup and why would you recommend it?
Megha: Two main things: the people, and the learning. I like working with smart, passionate, high-energy people and startups attract that type of talent. These people get emotionally invested and want to build something. You also can't beat the pace of learning. Early in my career I wanted to gain cross-functional experience and see the impact of my work — so a startup was a great place to start and optimize for learning.
Netta: I got into the startup world by building something based off of my own journey in corporate America. It is such a learning experience because you truly don't know what you don't know. Startups are fast-paced environments with such great opportunities to grow the network and skills that you need very quickly.
Why do you tell people it's a good idea to join a high-growth company?
Maggie: I joined my first startup pretty early, it was the company culture that pulled me in. Since then, I have deliberately chosen startups every time after. That's because of the opportunity to make such a quick impact on the business. You get your hands on a lot more things, there's a lot more opportunity to gain experience and learn a lot in a short period of time.
Sandeep: It is so fun to solve a problem for the first time. The best way to do that is at the earliest stage of the company. It's really exciting to be a part of cracking things for the first time.
What are the disadvantages of working at a startup?
Maggie: My biggest warning is that startups are oftentimes growing very rapidly and priorities change very quickly. We look for people who are great with ambiguity and change; that can be a drawback if that's not your thing.
Megha: You do have to be really comfortable with change; you have to anticipate it. Being very adaptive is going to help you at any startup. For folks early in their careers, you may not get the same type of structured mentorship you might get at a bigger company. You have to seek that type of structure out on your own and be a bit more of self-starter.
Netta, you're building your own company and so are the clients you're helping, what should people think about before taking that leap?
Netta: Everybody feels some imposter syndrome here and there, but you have to be very comfortable with yourself and your voice. When you get hired, you're coming into the company as an expert to do something great. I encourage everyone to come in with a voice and speak up, especially in this digital world, it's so important to communicate clearly.
Things like business cards, cover letters, resumes, do they still matter?
Maggie: In terms of a resume, I think so! Being thoughtful about the structure of your resume can be a great reflection of how you work as a professional. Resumes matter as a quick demonstration of you, your work, and the way that you want to represent yourself.
Netta: I think resumes matter as the first introduction of yourself to the company when putting yourself out there. It's also okay to have different types of resumes. You may have different experiences that fit better for different companies so it's okay to have several resumes to call out different skills and experiences for different jobs.
How long do you read a resume for?
Maggie: Typically I take about a 20-30 second overview. Which is even more reason to be really thoughtful about how you structure your resume.
Megha: I don't really prefer the old-school resume style with a lengthy initial summary. I do encourage including a one-to-two sentence statement to let companies know what you're here for.
What tips do you have for networking in this current climate?
Netta: I think it's important to join communities. Tons of digital communities have popped up during the pandemic, whether those be surrounding interest or industry. They don't all have to be professional networking groups, either — you might find someone who works at your dream company in a hobby group. LinkedIn is great too, shoot your shot on Linkedin. However, don't approach people with "I wanna pick your brain." When you meet with someone for an initial chat or conversation, have specific questions and things you want to ask them about. If they feel like the conversation was valuable, they'll be more likely to introduce you to someone in their network.
Sandeep: In those first informational interviews, I always want to find out someone's superpower. It's great to find out what the need is and pitch your way in. It's impressive when people are able to demonstrate real knowledge of where the company is heading. Also, if you're going to reach out, do it in a way that makes it easy for that person to forward you on to their own contacts.
Megha: Don't wait till you start job hunting to network. It's a discipline and a practice, and it's also a continuous effort to make genuine connections. Being genuine about building those relationships when you're already employed will help a lot when you do actually start looking.
Now that everyone is interviewing over Zoom, what are some common mistakes that candidates should be aware of?
Maggie: The technology element of interviewing on Zoom adds another piece to worry about when you're already nervous. To help with this, just make sure that you can log on and everything is seamless from a tech standpoint before you sign on for the interview. Also, make sure to do thorough research on the company because almost 100% of the time, you'll be asked why you want to work there. At startups, the mission is very important to people so it will be easy to tell if you don't know anything about that mission during the interview. We want to hire people who have bought into the mission and will work hard for it, so showing that at the very beginning will make you stand out.
Megha: On the research front, have thoughtful questions prepared to show that you have the basics down. Great questions will demonstrate your curiosity, how you think, and how you work when the tables turn.
Sandeep: I don't mind jumping on the phone with people. The video can freeze, it's stressful — so I may suggest just doing Zoom audio sometimes so you don't have that tension. It can be hard to have your personality come across, so I like it when people are humorous and can show they're not taking themselves too seriously. I've found that you can still create connections with folks over Zoom.
Netta: I would suggest having your personal pitch prepared. We're already on Zoom, we're already a little uncomfortable, so just be prepared and be confident. Also, try to make it more conversational instead of just pitching at the person you're talking to.
Keith: I have heard some feedback that people still need to take it seriously. Don't be too relaxed just because you're at home — it's still an interview, so act as if you're showing up to the company in person.
What questions should candidates ask to understand a company's culture?
Maggie: You can straight-up ask how the culture is. You can also ask what they do for fun as a team, how they built the culture in-person, how the culture has changed now that they're working remotely, et cetera.
Netta: Ask what retention is like at the company. It's a tricky way to see if people are actually staying. If retention is great, you know people are staying, and there's probably a reason why. You can ask about layoffs, if they foresee additional layoffs, and how they have handled any layoffs recently. It's a good way to see how the company is planning to move forward.
What should jobseekers consider when getting a feel for the company's diversity, equity, and inclusion practices?
Netta: When we talk to candidates for the companies we hire for, people openly ask about DEI initiatives. Sometimes, you have to cut companies slack because many of them are still growing their DEI initiatives. Regardless, it's good to ask how they're implementing these things. Being open is key, so feel free to ask about the initiatives they've already accomplished, what initiatives they're currently working toward, et cetera. This is a good way to tell if diversity, equity, and inclusion is just a statement on the website or something they're actually doing.
Megha: We've recognized that traditionally, in tech, DEI isn't done well. A lot of hires in early days are made from immediate networks, which doesn't really necessarily lead to a diverse team. We're trying to be very deliberate about how we take it from here. It's not just about inclusive hiring, you have to have an inclusive work environment, too. We try to be very meaningful about making sure different groups feel represented throughout their careers with us. It's a problem that all companies have to continue to solve.
Sandeep: We have a diverse leadership team which leads to more organic conversations about this. In these monocultures, there's a lot of talk about DEI, but there has to be continuous conversations about how to do that well. We have a lot of focus on what we can achieve when it comes to equity. There can always be a lot to be done there.
Maggie: This has certainly been a hot topic in the recruiting space. Some of the things that we have been making sure are foundationally in place as we do so much hiring is first making sure that our interview process is rooted in competencies that are required to be successful in a role. We also focus on inclusive messaging in outreach and job postings as well as including underrepresented interviewers on each interview panel.
What advice would you have for people trying to make the transition into a tech career?
Megha: There is such an incredible wealth of resources online and places to learn and build your skills. Let's say you want a Product Manager role, but you've never done that before. Find out what that type of job actually entails, research, and read as much as you can. When you're confident you want to go in that direction, come up with a clear way to translate your past experience into what you want to do in the future. This ensures that whoever reads your resume is able to understand your jump from one career to the next and why you wanted to make that move.
Netta: It's interesting to do some side projects if you can. Volunteer and freelance-based projects are a great way to see if you really like a certain area before you fully transition. If you say that your skills are transferable, hiring managers are still going to want to see a little bit of that in action, so try to add something to your resume that relates to where you're trying to transition.
Maggie: Don't underestimate the prior industry that you've been in and that experience you gained there to launch you into a new path. If you were in education before, why not look at edtech companies, for example? That contextual knowledge of prior industries holds a lot of weight that you can use to your advantage in interviews.
Sandeep: I salute those making a career change. You chose to do something different and that says a lot about who you are. For me, I wanted to go from a comfortable job in finance to starting a company. I spent some time starting a company and I didn't have the network I needed, so it took me about 6-9 months to look for a job. Sometimes it's two steps: leverage your skills and then do something close to what you want to do. Then, it's also great to keep a certain level of humility if you're entering a new career from a more senior position somewhere else. For all of the career-changers out there, it can be really fun to start something new.
Thanks again to everyone who was able to join us on Tuesday for our virtual panel with General Assembly: How to Get Hired at a Startup. We look forward to more virtual Zoom and in-person events in the future! If you just can't wait for more expert advice in the meantime, go here to browse the rest of our panel recaps over on the blog. And if you're ready to get hired at a startup, click here to sign in or sign up on Planted now!