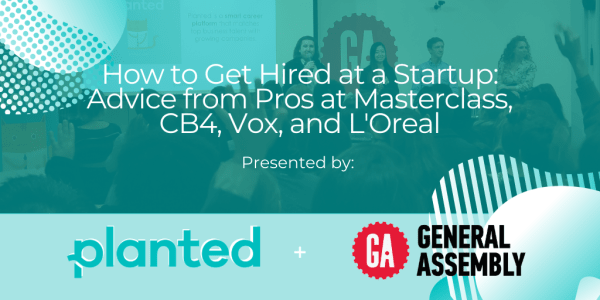 Forget what you might've heard about finding a job in the startup world, there's room for everyone in tech — even those of us who don't code! And although there are plenty of opportunities to join the startup world, breaking in can be tricky, especially if you come from a non-technical background. If you're eager to forge your own path toward a startup career but aren't sure where to start, listen up!
On Tuesday, October 13th, Planted and General Assembly co-hosted a panel of startup experts from Masterclass, Vox Media, CB4 and L'Oreal. We asked them about what life is really like at a fast-growing company, what a perfect fit looks like for them, their secrets to success for interviews and beyond. But if you weren't able to attend, don't worry — we've compiled all of the most important pieces of advice from the event right here! Check out all of the need-to-know insider tips we gathered from the panel:
But first! A word about our panelists:
Our moderator, Brittany Ramsey is the Manager of Talent Acquisition in Marketing, Digital, and Creative at L'Oreal and has extensive background knowledge about the world of recruiting and HR. Brittany is also the founder of BWell Mindset Coaching where she coaches career professionals on topics like reframing one's mindset, navigating the new job market, and staying resilient through the process, among other things.
Our first panelist, Mark Williamson is the current Chief Operating Officer at Masterclass, the leading online education platform that makes it possible for people to learn a vast variety of topics from the best instructors in the world. At Masterclass, Mark oversees a ton of different teams, from engineering and product to data science, strategy, enterprise development, and more.
Next up, Taara Khalilnaji is joining us from Vox Media where she works as a Recruiter in their Product, Design, and Technology sector. Vox Media is a modern, independent media company that produces digital, audio, and editorial content covering unique and compelling news stories from all over the world. At Vox, Taara runs the show when it comes to hiring engineers, product designers, and post-production technicians that help put together the content that their audiences have come to expect and delightfully devour.
Finally, our panelist Hannah Lieberman currently works as the Senior Talent Acquisition Manager for CB4, a Planted partner company and AI machine learning startup that works to provide point-of-sale solutions to brick and mortar retailers. At CB4, Hannah fills her days by handling all-things-recruiting-and-HR for both their US and Israeli offices.
What differences have you noticed between corporate vs. startup work environments?
Taara: I had spent a lot of time building my career in the startup world before joining Facebook, where I ended up hiring for very, very technical jobs. When I joined Vox, I was interested to know what it was like to hire for a tech organization that wasn't necessarily a "tech company." A lot of times at corporate tech companies, you're competing for engineers who want to work at Google, Netflix, Amazon, etc. and move up in their careers as fast as possible with the highest salary possible. 
At Vox, the main difference I've seen is that it's all about being bought into our mission. I'm interviewing more people who don't necessarily just want to get paid a ton, but they really care about making the world more connected. In this environment, I'm seeing a lot more people who place a lot more emphasis on contributing something tangible and meaningful.
In your career, you've navigated from engineering and product experience into leading startups. What skills and qualities most aided in that ability to transition?
Mark: I think it has to do a lot with propensity for being cross-functional in an organization. If you want to be able to work in any part of a startup or organization, start trying to understand everything about the way that business or concept works. If you're in Sales, dig your hands into how Marketing operates. How does our product operate? How do we maintain our supply chain? Get curious and try to understand everything.
If you can accumulate new concepts on a regular basis, you're going to start outpacing your colleagues and competitors who haven't gone that extra mile. Having a wide breadth of knowledge outside of your specific niche makes you way more qualified for those cross-functional roles.
As someone who has been at a startup for over 3 years, what made you join? What keeps you there?
Hannah: I ended up in a situation where I took a job (not with CB4) and I was excited, but as it turned out, it wasn't a fit. The work wasn't engaging, I wasn't building on my previous skills, and I looked around and realized I needed a reset. So I took a big risk, resigned, and started to take a good, hard look at the type of work that would be exciting to me. 
I'm from the Bay Area where the startup scene is huge and now living in New York I wondered, 'Why can't I have that here?' and eventually, I was introduced to CB4 and became their first New York hire. But the same thing that made me want to go into startups in the first place is the same thing that's kept me here — the challenge. 
I have been constantly pushed outside of my comfort zone and am always learning something new. At startups, there's this aspect of being given chances, over and over, to just try something new and I think that experience really allows individuals to learn something regardless of where they are in their career experience.
In interviews, what are some characteristics that often stand out for you when it comes to new hires?
Taara: First, risk. People who are willing to show that they take risks and can step over the line a little bit tend to do well in startup environments. We're talking about places where folks are expected to wear a lot of hats and do things they've never been asked to do before and it requires hustle. 
Apart from that, people who do well in the hiring process come in and often show that they're adaptable, have navigated ambiguous environments without a lot of direction, and demonstrate themselves as a self-starter. Overall, I want to understand if this person can rise to the occasion, regardless of what the occasion is. They have to have the propensity to say, "Hey, I'm gonna figure this out."
From your perspective as a startup leader, what things stand out for you when interviewing? 
Mark: Three things. High energy: You're going to need a lot of energy to have that desire and drive to push the business forward. High intelligence: Can your brain solve really complex challenges? Startups exist to do what feels like the impossible - you're oftentimes solving problems that haven't been solved before, so high intellect is pretty important. And high integrity: when you're running a high-stakes operation like a startup, you need to be able to trust people to act in really ethical ways. 
And on the flipside — what about red flags? 
Mark: This one goes back to integrity but whenever I feel like a candidate isn't being entirely truthful or trying to sugarcoat a situation to make themselves appear better, that's a red flag. I'd rather hear about the mistakes you made, all the pain it caused, and how you grew from it rather than have someone reframe the story in a more favorable light. People who are honest in assessing themselves show an ability to grow over time because they're cognizant of what they need to improve upon.
What types of things stand out when reviewing a candidate's cover letter and resume? How can candidates stand out even before the interview?
Hannah: Oftentimes, so many of the challenges that you'll face at a startup are things you likely haven't faced before, so we're not necessarily always looking for solid experience, we're looking for potential. Of course there can be some experiences on your resume that will stand out if they align directly with what we're looking for, but we're really looking to see that whoever we're hiring is really ready for that next step in their career. Cover letters can be a game-changer too, because they help fill in the gaps that might be left from your resume and help to better tell your full story and why you want to join our team, specifically. Dive deep in your cover letter and use it as a way to give context and color to those bullet points listed on your resume.
The job market is tougher than ever, what tips do you have for building resiliency so that people will want to keep trying?
Mark : At Masterclass, our teams are not going to face another quarter that's as tough as this one again; it is gonna take a lot of resilience. So, I encouraged all of our team members to develop a plan. I took everyone through my own personal plan: I need to start doing date night with my wife, spending more time with my kids, etc. 
So, from a jobseeking perspective, I'd encourage you to create a plan that you can stick to that will enrich yourself mentally, emotionally, physically, etc. so that you can put your best self forward in an interview. Having a plan, being prepared, and investing in yourself really shows and ultimately, can make these tough circumstances a million times easier.
Taara: You have to face your fears to be able to build resiliency. At some point, you have to be willing to be a little uncomfortable in the workplace. Personally, I'm a disagreeable giver — I'm going to raise my hand, be a devil's advocate, and challenge the status quo because by doing that, I've been able to mitigate hard conversations. The more you face your fears as a professional, the more you build that resiliency and expand your imagination about what you can do in really any role.
Finally, we talked about cultivating and articulating your experience, but what about candidates who have less experience? Any advice for new graduates?
Hannah: It's a tough position but there are a ton of organizations and positions that are really great for recent grads. Myself, I began as a Sales Development Rep, which is now one of my favorite roles to hire for at CB4. It's my favorite type of hire because I'm obsessed with this idea of being able to give someone that first opportunity. My best advice if you're working on your resume and you're worried about how it looks, show it to someone else — send it to everyone you know for feedback. 
Take a good look at the job descriptions of the roles you're applying to and restructure your resume to match the job description as closely as you can with your own experiences. You may not have some of the exact experiences they're looking for, but you could have some sort of applicable experience that might get you an interview if you can connect it to the job you're applying to. 
Also, make multiple resumes. Sending the same resume out every time isn't going to work because each company, their values, mission statement, etc. will all be different. We're looking for potential, emotional intelligence, and an all-hands-on-deck attitude. Regardless of experience, once we see that this person has those qualities and the ability to do this job, we'll take the chance.
Thanks again for everyone who was able to join us on Tuesday for How to Get Hired at a Startup. We look forward to more virtual Zoom and in-person events in the future but if you're lookin' for some more expert advice in the meantime, go here to browse the rest of our panel recaps over on the blog. And if you're ready to get hired at a startup, click here to sign in or sign up on Planted now!