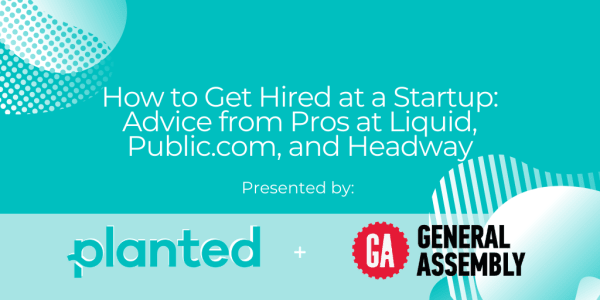 Regardless of your professional experience, industry background, or undergraduate major, there's room for everyone in tech — even those of us who don't code! And although there are plenty of opportunities in the startup scene, breaking in can be tricky, especially if you're unfamiliar with the ways of the startup world.
On Tuesday, October 25th 2021, Planted and General Assembly co-hosted a virtual panel of startup experts from Liquid, Public.com, and Headway. We asked them about what life is really like at a fast-growing company, what a perfect fit looks like for them, their secrets to success for interviews and beyond. But if you weren't able to attend, don't worry — we've compiled all of the most important pieces of advice from the event right here! Check out the Q&A from the panel below.
But first! Let's meet our panelists:
Today's moderator is David Belson, Career Coach at General Assembly.
Katie Perry is the VP of Marketing at Public.com - an investing platform enabling the public to own stocks, funds & cryptocurrencies. Katie has varied experience at startups both full-time and as a consultant.
Jacqui Chew is the CFO at Liquid - a platform that helps companies, freelancers, & contractors work together more collaboratively and get paid much more easily.
Dan Robinson is the Head of Technical Recruitment at Headway - a mental health platform focused on expanding access and increasing affordability to mental healthcare in America.
Now, onto the panel!
What first drew you into the startup industry?
Dan: I dealt with anxiety & depression beginning in college and found trouble getting healthcare on campus. Ultimately, I began working with the college administration about students' inability to find this type of care while at school. Shortly thereafter, I had an article published in Psychology Today about this type of inaccessibility for students. I had never imagined myself working in tech but two entrepreneurs saw my article at the same time that they were trying to address the waning access to mental healthcare services for college students. These two entrepreneurs reached out to me, I liked the mission of their company, and soon after became Employee Number 1 at Headway.
Jacqui: I got into the tech industry almost by accident – I was working at a Marketing Communications agency and we specialized in launching startups. We were very busy and I learned about a startup that I was trying to get as a client and soon after that, I was hired as their VP of Marketing.
Katie: I had an accidental path, too — in college I wanted to be a journalist. I landed at a startup because I was very fortunate to work at a search marketing agency that was expanding into social media while it was starting to blow up. I stayed and watched the company grow from 100 to 1000 people — it was hard work, but it was super rewarding to build every stage of that and watch it grow. I caught the bug for building things and though working at startups wasn't an initial goal of mine, I continued to work at startups because I wanted to continue building.
Any misconceptions about startups that come to mind?
Jacqui: For those who are seeking to join a startup it's important to know that the earlier stage the startup is, the higher the risk, the fewer the people on the team: the fewer the likelihood that you'll have tons of perks and options as part of your compensation package. It's something to ask about and to research into if you're in the process of negotiating a package with a startup. Just because it's a startup doesn't necessarily mean you're going to have a ton of equity.
Dan: One of the biggest misconceptions is that joining one startup is the same as joining any other — they're not the same, though. The amount of funding that a startup has is going to greatly affect your day-to-day. Some startups are incredibly well-run, some not. Some startups have a wealth of funding, some have absolutely no resources or funding when you're in the ground phases. Pay very close attention to where the company's at in the funding process, how they're doing overall, and what their funding situation is. If they're later in their funding process, you might be joining a totally different company than an early-stage startup.
Katie: That point is super valid. I had the misconception that a startup's leadership or their product must be great if they're getting investors and raising money. But even companies that end up failing do raise money. You have to vet the team and the product, know funding stages, and decide what stage is best for you when joining.
Anything you wish you could change about the startup environment?
Jacqui: We really need to stop glorifying the grind: working weekends, nights, all-nighters. I see this in some other startups around me where my peers work and the trend seems to be about how much sleep they didn't get or how long of a day they had — it's not healthy. Studies have shown that this constant grind results in a point of diminishing return for humans and we have to stop glorifying the long hours.
Dan: At Headway, one of our core values is that you have to be able to serve yourself in order to serve your community effectively. We know that we need to work fast but at a sustainable pace as well. I agree that for something to be successful, speed is essential — but it should never come as an expense to the people working on the team.
Any qualities that you or hiring managers at your company look for in candidates?
Jacqui: I look for someone with grit but also with integrity and character. At Liquid, we hire for values alignment, not culture fit. Finding a "culture fit" sounds good, but in reality, you'll end up with people hiring people who just remind them of their friends. That's another point to what I would change about startup culture: it can be a real insider game. The best thing for the business, though, is to hire a wide range of people with character who are aligned to our values. Aside from integrity and grit, I really look for people who bring completely new perspectives to the table because it makes the overall company perspective stronger.
Dan: I agree, one of the largest causes for bias in hiring is a lack of structure and process. When interviewing at Headway, everyone gets the same questions. These questions have been designed to measure certain skills and competencies and two other people always shadow each interview to help reduce bias. It's a very structured process that's so important, yet so easily forgotten within startups. When interviewing, we look for someone who is low status and high-grit because often, you may be dealing with very unglamorous work. An ability to adapt at startups is also really valuable — business strategies often change, processes change, so we're more likely to hire an adaptable generalist who is comfortable dealing with ambiguity.
How does a candidate make their qualities stand out on a resume to get an interview?
Jacqui: The resume is such an old-fashioned thing. If I have a job posting, I'd much rather that people take a careful look at the job posting and ensure that their LinkedIn (which effectively is a resume) is updated to fit, then they reach out to me with qualitative reasons why I should spend 30 minutes talking to them. It's slightly non-traditional but I truly believe that LinkedIn is a great resource. It's the first place I go to evaluate candidates when I have 100 resumes in front of me. Straight-up job experience isn't as important to me as knowing who a candidate is as a person.
Dan: As a recruiter, I look at hundreds of applications a day for different things. Keeping that in mind, make sure that your resume makes it incredibly clear why you are a fit for the role you're applying for. If you're applying for a data analyst position, put relative information in your headline. Make it really obvious why your background makes sense for that position. Additionally, applying for a job online gets you about an 8-second look from a hiring manager or recruiter. Following up via email or on LinkedIn to let people know you've applied and are introducing yourself provides supplemental context. If someone does this outreach, I'll always look back and take a more serious look at the application rather than someone who just submitted a cold resume with no follow-up.
How has remote hiring changed your processes?
Katie: Although we went from 15 team members to about 150 during the pandemic, the biggest change wasn't necessarily during the interview but in onboarding. We've matured our way of doing remote onboarding with dedicated modules by team to make it more consistent across the board. Of course in the partially-remote environment, you lose some of the osmosis you'd get from your other team members by getting coffee at the same time, riding the elevator together, etc. In terms of the hiring process though, not much has changed.
Jacqui: I previously worked at a hybrid remote startup and during the pandemic we actually acquired another company and hired an additional 26 people, so there was a lot of expansion. One of the things I observed was that despite the company being 150 people strong, we didn't have documentation and mature processes for onboarding or set interview approaches, so there was chaos. It was certainly not a great experience for the candidate. I'm now with a company that is remote-first, so remote working has been our priority since the pandemic. Because we took a remote-first approach to working & collaborating, we found it really important at Liquid to document everything. Documentation is key, it makes for a very consistent and positive experience for new hires.
Finally, any announcements or hiring opportunities from your companies?
Dan: Headway received $106m in funding this year and we're working to expand our team right now. We're hiring rampantly across the board for almost every function, position, or level so check out our careers page.
Katie: Public.com is also hiring! A bunch of New York-based roles are available now. We currently have openings across marketing, sales, and engineering.
Hungry for more advice from startup pros? We co-hosted another expert panel back in January with pros from Mimconnect, Hims & Hers, Octave, Venture Fizz, and Better.com — check out our recap here!
If you're ready to get out there, check out the hundreds of startups in your area who are looking for top talent right now — dozens of opportunities are waiting, so sign up on Planted now (It's free!)
Answers have been edited for length and clarity.