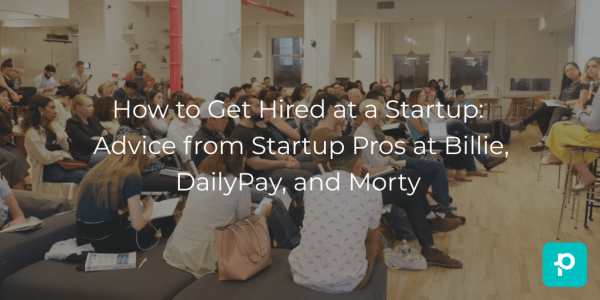 Regardless of your professional experience, industry background, or undergraduate major, there's room for everyone in tech — even those of us who don't code! And although there are plenty of opportunities in the startup scene, breaking in can be tricky, especially if you're unfamiliar with the ways of the startup world. 
On Wednesday, September 18th, Planted and General Assembly co-hosted a panel of startup experts from Billie, DailyPay, and Morty. We asked them about what life is really like at a fast-growing company, what they look for in their best hires, their secrets to success for interviews, and more. But if you weren't able to attend, don't worry — we've compiled all the highlights from the event! Check them out:
Tell us about yourselves and what you do.
Sarah: I'm the Head of People at Billie. We're a shaving subscription service created for women, so we focus on maximizing the social impact of our team as much as we do on our products. Prior to joining Billie, I worked at a couple of different startups, including CaaStle and Birchbox. 
Jana: I'm the Senior Recruiting Manager for DailyPay. DailyPay helps people access money they've already earned to help them work toward their financial future more freely. I sort of started in the nonprofit world as a diplomat and moved into the startup space to find other way to help people, make connections, and build great teams. 
Nora: I'm a co-founder and COO of Morty. We're an online mortgage marketplace that empowers first-time homebuyers with the tools and resources they need to make smarter financial decisions. I'm an engineer by trade, and I went back to school for computer science because I was interested in building the technology behind a startup. After completing my master's, I broke into the startup world here in New York City.
What are the most important qualities you look for in new hires?
Jana: Someone who is purposeful, has direction, and knows what they want. You don't need to know which department you want to work in to know yourself and your passions. I look for someone whom I can tell has been purposeful in their decision-making. 
Nora: Someone who has the ability to learn from their mistakes. When I do interviews, I always ask, "Tell me about a time when you made a mistake and how you learned from it." If someone can't answer that question, that's a red flag. A startup in its early stages is a series of ups and downs, so I want to know that someone is able to learn and adapt when things go wrong. 
Sarah: I always ask candidates what they think they can bring to the table. It's important for me that a potential hire knows their strengths as well as areas where they have the opportunity to grow. I also look for a level of confidence when someone is talking about their skillset. 
How can candidates ensure they've got the best shot to interview with your company after they've applied?
Nora: First, have a good resume! Clarity in your resume is so important. Make sure there are no spelling or grammatical errors, that you've listed all the correct contact information, and that there's not a blank page at the end of your resume. These seem like small things, but formatting on a resume is important because it shows attention to detail. 
Jana: I like it when candidates keep their resumes brief. I don't need six pages; tell me what's relevant and tailor your resume to a certain job, if you can. If you customize your resume or provide extra information, that showcases your attention to detail as well as how much you want the job. 
What's your interview process like? 
Jana: Our interview process changes depending on the department, the level of the role, and the expectations of each hiring manager. For technical roles, candidates will do coding exercises and assessments, whereas for copywriters and marketers, we'll review their portfolio — so it varies. At the same time, we try to keep each process to three or four steps because we want it the experience to be lean, structured, and fairly quick. 
Nora: I think a company's hiring process tells you a lot about them. Our process has evolved a lot and we've created a lot of structure to streamline it. We have a 30-minute phone screen, then we have candidates perform a 2-3 hour case study, and when the candidate comes in, we have them present the case study. Then, they'll have various one-on-one sessions with the people they'll be working with. Checking references is also something we do that I've found to be a standard practice.
Sarah: Typically, for startups, there's an assessment or take-home test. We do that and it's been beneficial because the results of our assessment help us determine whether to bring someone in for an interview or not. The results of these assessments are also a great tool for us to provide feedback to candidates if they aren't moved forward. 


What's different about interviewing at a startup versus a larger company? 
Sarah: "Culture-add" is one of the most important things we look for in our process. At a startup, a huge emphasis is placed on how you'll work alongside the existing team, but also how you can make the organization better — what you add to the culture.
Jana: Corporations are changing and becoming more people-focused than they used to be, but startups are more mission-driven and people-focused. Startups have fewer resources, so they often need the people they're hiring to be able to handle a range of responsibilities and roll with the punches rather than someone with a more concentrated skillset. 
How do you assess for a culture fit (or culture add)? 
Sarah: We have organizational values we want everyone we hire to adhere to, so when we're trying to assess this, we ask candidates about their personal values when thinking about their next opportunity: what they can bring to the table, what excites them, and how they think can help our organization. 
Jana: After I lay out the role description and responsibilities, I always ask candidates what suggestions they have for how we can improve. I want to know that candidates have a good perspective on how we are thinking based on their past experiences.
Nora: Our team is very passionate, but we're also always questioning ourselves. We look for people who come to their interview asking hard questions and trying to turn the tables on us. We think that's indicative of someone who can improve our culture and challenge the assumptions we make on a daily basis. I also ask people where they see themselves in 3-5 years, because it's important for us that people want to better themselves while working with us and that their trajectory aligns with ours. 
What are some common misconceptions about working at startups? 
Sarah: People may come in and think that it's all fun and games! But the reality is that startups are a lot of hard work; work-life balance can sometimes be tough, and you often have to set boundaries to keep yourself from getting overwhelmed. Startups are good for people who want to be pushed and challenged, not people looking for a break from the workload they're experiencing at a bigger company. 
Nora: It's not all fun — startups are real companies and real businesses. People have expectations for us to perform, and if you don't, there are more direct ramifications. Yes, it's true that everyone is a family, but we still have to grow. It can be even more intense than a larger company because you have so many more responsibilities that fall outside of your primary job description. 
Any final advice for those trying to land a job in the startup world? 
Jana: Don't be afraid to show who you are and what you're passionate about! Also, don't be afraid to show off your past achievements. We want to hear about those things — they're going to set you apart from other applicants.
Nora: In corporate interview settings, candidates are often discouraged from showing their personalities, but at a startup, your personality is a huge asset. I would also say that at Morty, we consider the interview double-sided: we want candidates to interview us as much as we're interviewing them!
Sarah: Confidence is your biggest tool. A smile, a strong handshake, and timely follow-ups can go a long way and demonstrate your ability to express yourself and communicate.
.
.
.
Now that you're ready to make your startup dreams come true, we're here to help you make it happen. If you're ready to get out there, check out the hundreds of startups hiring on Planted who are looking for top talent and fresh faces!
Answers have been edited for length and clarity.