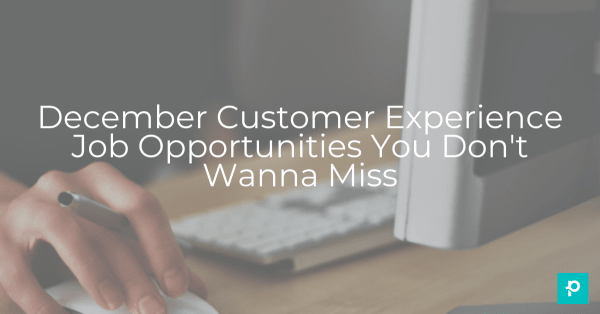 Last updated 12/14/2020
Calling all CX gurus! Looking for your next big opportunity to work directly with customers? Are you excited to serve as a voice for your company and become a pro in products, platforms and people? In that case, these hot openings in Customer Experience are a must-see. From San Francisco to Boston and NYC, here are our top CX openings available on Planted right now.

About Chrono24
Chrono24 is the online platform for luxury watch dealers, collectors, and enthusiasts. In 2009, co-founders Tim Stracke, Dirk Schwarts, and Michael Krkoska had tons of collective experience working with online marketplaces and were looking for the opportunity to build one of their own. As self-described "watch guys," they were fascinated by the international reach of luxury timepiece trading, and Chrono24 was born. They've since made a name for themselves in timepiece trading with a worldwide network that connects watch dealers from over 90 countries to 14 million watch enthusiasts every month. 
About their positions
After-Sales Representative (New York, NY) — Apply Now
The sales team at Chrono24 is looking toward some major goals for this next season and are currently looking for an organized and flexible customer success pro to join them as an After-Sales Representative. In this position, you'll play an integral role on this growing sales team, advising buyers after they've used the platform to strengthen connections with the marketplace, address any questions, and offer buyer protection services. The ideal candidate for this opportunity is a naturally-curious critical thinker with at least 1-3 years of client-facing experience, including cold-calling. If you think you'd make a great fit at Chrono24, make sure to check out the rest of the details on Planted while this opportunity is still available!
Merchant Support Representative (New York, NY) — Apply Now
As they look to build an even more robust catalog of merchants in New York, Chrono24 is casting their net for a talented Merchant Support Representative to adopt their mission and hop onboard. In this position, you'll have the opportunity to serve Chrono24's merchants by providing prompt and efficient service, guiding these partners through onboarding, and the resolution of day-to-day support issues. The ideal candidate for this position is a strong communicator and enthusiastic problem-solver with some experience working in e-commerce or retail and a record of success with regard to quality & productivity. Ready to dive into your Sales career at Chrono24? Head over to Planted to apply now.
About Finsight 
When it comes to making the world of investment banking more accessible and cost-efficient, it's Finsight to the rescue. Their technology provides valuable insights into capital markets, streamlining workflows and reducing costs throughout the banking industry. 
About their position 
Client and Operational Support Analyst, Nights (New York, NY) — Apply Now 
Finsight is made up of a close-knit group of motivated, open-minded folks committed to solving real problems, and they're currently looking to make a new addition to this team. As a Client and Operational Support Analyst at Finsight, you'll work to provide top-notch phone, email and chat support, working closely with clients to support other departments from operations and finance to development and sales. The ideal candidate for this role is a resourceful self-starter with a coachable attitude and strong technical proficiency. Check out the rest of the requirements now and make sure to apply on Planted while this opening is still available!

About Back Market
Recognized by Fast Company as one of the World's most innovative companies, Back Market is the first online marketplace making used tech cool again. On their mission to reduce tech waste in landfills, Back Market connects certified refurbishers and resellers of used electronics with consumers looking for a more affordable, reliable, and environmentally-friendly alternative to buying new.
About their position
Head of Customer Care Performance (New York, NY) — Apply Now
As Back Market doubles down on their US-based market, they're looking for a new Head of Customer Care Performance to deliver best-in-class customer experiences, ensuring customers have no more reasons to buy new. In this position, you'll have the opportunity to lead a team of 8 project managers based in the US and Europe, streamlining processes and operations to create a seamless and exceptional experience on the platform. The ideal candidate has at least 5 years of management experience with 8 years of experience driving high-impact projects to completion in operational project management and a strong knowledge of the e-commerce industry. If you're enthusiastic about making waves at a rapidly-growing startup with a rich mission, head over to Planted to apply now.

About Teachable
Teachable believes that everything is well .... teachable! Whether your expertise is pottery, liquid hydraulics, underwater basket-weaving or e-commerce, if you're looking to share your knowledge with others, Teachable is the place to do it. Used by hobbyists, professors, solopreneurs and growing enterprises, Teachable is an online platform where anyone can build and sell instructional courses online. Getting set up on Teachable is easy, so that within just a few clicks you can create a personalized online school to share with your students. 
About their position
Remote Customer Care Support Agent (Las Vegas, NV) — Apply Now
As teachers everywhere take their traditional classes online, the team at Teachable is ramping up their capabilities exponentially and looking for a Las Vegas-based Customer Care Support Agent to join their team and help guide their path to success. In this position, you'll have the opportunity to deliver solutions to Creators and their students by email while meeting or exceeding individual and team productivity and quality goals. The ideal candidate for this position has at least 1 year of experience in a metrics-based CX role along with excellent communication skills and the ability to excel in a data-driven environment. If you're curious about what it takes to work with this awesome team, click the link below to check out the full details of the position here.



About Brilliant Earth
Founded in 2005 by classmates at Stanford, Brilliant Earth is the global leader in beautiful, timeless, ethically-sourced jewelry. They follow the principle of "luxury with a conscience" by sourcing conflict-free diamonds and jewels, all in the hopes of cultivating a more transparent, sustainable, and compassionate jewelry industry. Not only are they committed to sustainability, but community impact; donating 5% of net profits to build brighter futures in mining communities. 
About their position
Customer Experience Assistant, Sales (Chicago, IL) — Apply Now
As they work to make an impact in the world of ethically-sourced jewelry, Brilliant Earth is looking for bright, passionate individuals to join their Chicago-based team as a Customer Experience Assistant in Sales. In this position, you'll have the opportunity to manage, maintain, and close inbound sales at a high-volume capacity while creating memorable experiences for Brilliant Earth's customers. The ideal candidate for this opening is a natural problem-solver and seller with experience working in an e-commerce or retail environment. If this sounds like your next big gig, hurry over to Planted to peruse the details and submit your application.
Just hit the Apply Now links above to apply to any of the positions we mentioned here! Each Planted partner we've featured is looking to hire quickly, so if you're interested, make sure to submit your application right away to secure your chance to work with one of these high-growth companies. If you didn't fall in love with any of the positions above, no worries! We're adding new opportunities to the platform all the time, so make sure to sign up to check out all of your potential job matches on Planted now.