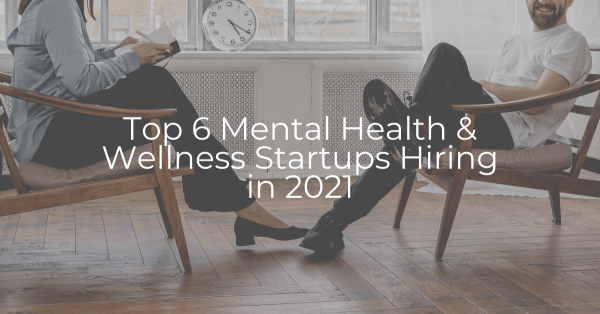 Sure, we're probably all familiar with the multi-billion dollar fitness industry — hundreds upon hundreds of companies have dedicated themselves to transforming people's physical health around the world. But more importantly, we know that overall wellness starts from the top — your brain, that is! 
During a year that has been particularly tough on collective mental wellbeing, we want to make sure we give a shout-out to the dedicated change-makers helping us pursue calmer, happier minds. These innovators have combined the best of technology, science, and psychology to help us take control of our mental wellness, and they're all hiring! Read on to learn more about the Top 6 Mental Health & Wellness Startups Hiring in 2021: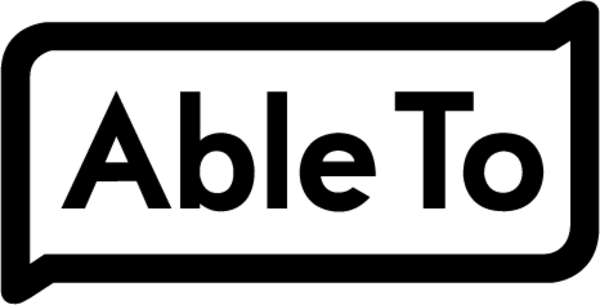 AbleTo
Why We Love 'Em 
For those undergoing any kind of behavioral therapy, it may be surprising to find that the hardest part isn't getting started, but maintaining therapy. AbleTo's platform aims to solve this major problem in behavioral health by ensuring consistent access to care and upholding excellent quality of therapy. They're redefining their approach to online behavioral therapy because they not only want their patients to get better, but stay better. 
How They Got Started
At 37 years of age, AbleTo's founder Michael Laskoff was diagnosed with ADD (Attention Deficit Disorder). Although he was finally able to put a name to the symptoms he'd struggled with his whole life and underwent various therapies with medication, Laskoff knew the treatment he was receiving just wasn't enough. He asked himself, 'How can we make it easy for anyone in need of this type of care to get it … where it's also cost-effective and fits into their daily lives?' In short, Laskoff set out to build the type of therapy platform he wished he had for himself — reliable, quality behavior-change therapy that's available at just the right time. 
Funding 
Since 2013, AbleTo has secured $46.6 million in funding across 5 rounds. 
Who They're Looking For 
At AbleTo, their team of hardworking professionals is the engine that powers them to make an impact. As they work to raise the bar higher and help millions of people live better, AbleTo is looking for talented, passionate team members to help make it happen. Right now, they're hiring across various departments including Clinical Network & Operations, Enterprise Analytics, Data Science, Operations, Product, Design, and more. 

Feel
Why We Love 'Em 
Feel's biomarker bracelet is kind of like a FitBit or Apple Watch … but for anxious people! By monitoring daily physical and psychological signals, Feel is helping people develop long-lasting emotional habits to improve overall well-being. The Feel wristband monitors signals and recognizes emotional patterns from your body, transmits them to the mobile app, provides educational materials for self-management and resilience, and connects you via live chat to a provider for 15-minute action plans and check-ins. By combining physiological signals linked to stress and brain health, Feel is providing the most in-depth way to manage anxiety & depression. 
How They Got Started
When co-founders Haris Tsirbas and George Eleftheriou began their fast-paced journey into the startup world, they were both really struggling with their mental health (and knew they weren't alone). Whether they were experiencing depressive burnout or panic attacks, they both sought psychological treatment for this barrage of symptoms. During this experience, they both realized that traditional psychotherapy needed a good deal of modernization. While there are millions of professionals in practice to help address the mental health crisis, these disorders (and the demand for mental healthcare) are on the rise, and the current system will not cut it to meet the growing demand. With this realization in mind, they set out to combine the best in technology and biometric research to help people not only address, but truly understand their emotional health in a way that fits into their already tech-oriented lives. 
Funding 
Since 2016, Feel has secured $6.3 million in funding across 11 rounds. 
Who They're Looking For 
Feel has set out to revolutionize the world of mental healthcare. With these huge goals in mind, they're always looking for radically thinking, passionate go-getters to join them. As they work to poise themselves for success in 2021 and beyond, Feel is hiring in both Business Operations and Customer Support. 

Ginger
Why We Love 'Em 
Ginger knows that when you need therapy, you need it right away — and they're here for you whenever you need it. Because once-a-week therapy isn't going to cut it for everyone, Ginger has developed the most accessible, on-demand approach to digital therapy. Mind racing, can't sleep? Get overwhelmed in traffic? Breakup stress hits outta nowhere? With Ginger, there's no reason to wait for your appointment to get the help you need. Their app makes it easy and stress-free to get real-time video or text support with a licensed therapist 24 hours a day — so you're never truly without help. They've even partnered with Capsule online pharmacy to combine behavioral and medication therapy for patients who need it! 
How They Got Started 
Ginger was born in 2011 after co-founders and MIT researchers Anmol Madan and Karan Singh made a stunning realization: when your loved ones are stressed or going through something tough, you can almost always tell. Be it based upon the sound of their voice, their energy level, or even how they're texting. Singh and Madan were inspired by the idea that digital activity could be used to predict users' mental health. Since the initial inspiration, the co-founders have since pivoted to utilize that same personalized method of communication with one-on-one digital coaching and therapy. Now, Ginger has become one of the most widely-used behavioral therapy apps, with millions of patients in 30+ countries signing on for check-ins and sessions every day. 
Funding 
Since 2011, Ginger has secured $220.7 million in funding across 10 rounds. 
Who They're Looking For 
At Ginger, their team is embracing diversity in people, ideas, and experiences to change the world of mental health for good. As they work to transform the future of mental healthcare, they're looking for talented folks to help them move the needle forward. Right now, they're hiring across Engineering, Administration, Clinical Care, Marketing, Sales, and more. 

Happify
Why We Love 'Em 
Happify is helping its users overcome the negative effects of today's world by challenging them toward positivity. They've harnessed the science of Positive Psychology to create an all-in-one destination for effective, evidence-based solutions for mental health. Their program doesn't just help its users through traditional video talk therapy, but teaches them to break old patterns, form positive habits, and redefine one's own thoughts, feelings, and behaviors. 
How They Got Started 
Happify was founded in 2012 by co-founders Tomer Ben-Kiki, Ofer Leidner, and Andy Parsons — three serial tech entrepreneurs who had spent years using tech to improve various aspects of peoples' lives. The idea for Happify came about when they were struck by the idea that if technology can help us book a hotel, grow better crops, and do our taxes, it can also be used to transform mental health. Around the same time, they also became familiar with the field of Positive Psychology — the scientific study of what helps people thrive and lead meaningful lives. They came across enormous, undeniable findings of how Positive Psychology had improved the lives of millions and decided to blend this concept with technology for an accessible solution that would truly impact mental wellbeing. Now, they're using the science of happiness and the power of innovation to help millions of folks lead more productive, happier lives. 
Funding 
Since 2012, Happify has raised $118.7 million across 9 rounds. 
Who They're Looking For 
The team at Happify is made up of goal-oriented, fast-paced professionals dedicating themselves to the future of happiness worldwide. As they work to transform mental health through the power of Positive Psychology, Happify is looking to grow their team. Right now, they're adding new faces to their Business Development, Content, Client Service, Corporate, and Product teams. 

Limbix
Why We Love 'Em 
Across the United States, tens of millions of teenagers struggle with depression. Tragically, suicide is the second leading cause of death amongst American teens — and til recently, not enough has been done to address the maze that is adolescent mental health. By combining therapeutic technology with leading adolescent psychological science, Limbix has developed a tech-first mental health treatment for a tech-adhered generation. By delicately marrying technological innovation with clinical expertise and digital therapeutics, Limbix is improving the mental wellbeing of teens everywhere. 
How They Got Started 
Limbix was founded in 2016 after entrepreneur and founder Ben Lewis was struck by two glaring realizations: first — the adolescent mental health crisis in America and its growing prevalence, and second — the ever-expanding gap between patients and providers. Lewis noticed that the waiting lists to see a psychologist in his area were over 6 months long, and that was just for regular, adult providers. He couldn't imagine how tough it must be to find a specialist that could cater to the needs of young, developing minds. Being already well-versed in the tech industry, Lewis was inspired to leverage his resources and apply them to transform mental health for young people. Now, the Limbix platform works to connect thousands of teens worldwide to in-demand, research-backed coaching for mental health. 
Funding 
Since 2016, Limbix has secured $16 million in funding across 5 rounds. 
Who They're Looking For 
Limbix thrives with the help of a small, but mighty Southern California-based team of forward-thinking teammates searching for the next big solution. As they position themselves toward major growth this year, they're looking for some fresh faces to join them. Right now, they're working to expand their Product, Design, and Executive teams remotely and in Los Angeles. 

Modern Health
Why We Love 'Em 
Modern Health is a powerhouse mental healthcare provider helping companies like Pixar, EA, Postmates, and Lyft keep employees happy, healthy, and motivated. They believe that when individuals are able to equip themselves with tools for mental wellness and resilience, no goal is out of reach. Their global network of mental health providers and coaches treats mental health as a spectrum, so no matter where you fall, their experts are ready to provide whichever level of support is tailored to you. Through their program which matches users with therapists within 12 hours, Modern Health is working to create a truly happy and productive workforce. 
How They Got Started 
There are several barriers that prevent people from seeking quality mental healthcare — stigma, geography, socioeconomic class, on and on. Modern Health was built by former college athlete Alyson Watson to eliminate all of them and make a realistic path to mental wellness more accessible. As an anxious child and the daughter of physicians, Watson found herself interested in mental health early in her life. She experienced firsthand how tough it can be to find a practitioner to treat symptoms of anxiety and other psychological issues, regardless of access to insurance. After years of struggling herself, Watson founded Modern health in 2017 to address the stress-inducing process that plagues already stressed-out and anxious people. With an easy-to-use mobile app, patients are now able to take a quick assessment and access resources immediately, creating a clear and proactive path that aims to "make seeking mental health cool." 
Funding 
Since 2018, Modern Health has secured $167.4 million in funding across 5 rounds. 
Who They're Looking For 
The team at Modern Health invests in their stakeholders, never stops searching for new solutions, and enjoys the journey. As they continue breaking barriers in mental health and provide life-changing care for thousands of users, they're looking for new team members to contribute to this growth. Right now, they're hiring across Analytics, Data Science, Clinical Care, Engineering, Marketing, and more. 
Whether you're determined to find that perfect career match with a mental health-tech company this year or just diving back in to see what's out there, we'll be here with top career recommendations all year long! If you think you'd make a great match for any of the companies listed above, get out there with your resume and get after it! If you're looking to get an insider referral to a top, fast-growing startup, make sure to sign up for Planted now.