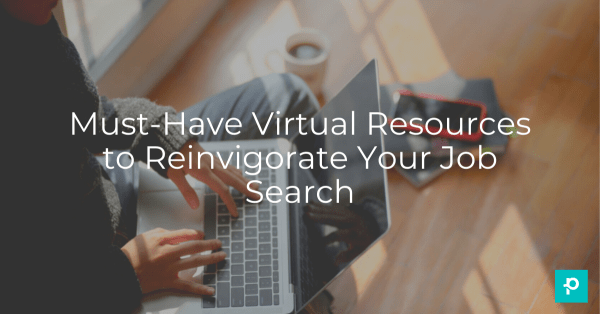 For the past few months, we've all been asked to do lots of things online that we'd rather do in person: birthday parties, doctors appointments, interviews, and of course: job searching. During a simpler time, we could meet up with mentors at coffee shops to help us crunch our resumes, attend career workshops and networking events, and even interview face-to-face without posing a serious health risk. And while you can't replace the valuable experience of getting together in person with mentors, peers, and colleagues, there are plenty of tools to help you stay just as productive in your job search — while staying at home. 
We put together some of our favorite online resources to help you stay at the top of your game when it comes to finding your next big job opportunity. So, if you've been tossed back onto the job market and find yourself nervously navigating this brand-new hiring landscape, scroll on to see our favorite virtual workarounds to help you network, interview, skill-build, and more.
For Working on Your Network 
Gone (or postponed) are the days of packing into a conference room for cocktail hours with leaders in your industry. Now, we have to get a little bit more savvy when it comes to reaching out and staying connected to important career contacts. Here are some of our favorite online platforms bringing together professionals from all corners of the globe: 
You know this one. There are over 260 *million* active users on LinkedIn right now, and as the most established networking social platform, it's the easiest platform for reaching out to new contacts directly. To get started, do some searching around for industry organizations you're interested in or companies you admire and check out the folks who are part of those organizations. A simple message stating who you are, why their profile caught your eye, and what you'd like to talk about is a great way to start a conversation on LinkedIn. 
Peer Industry Forums 
Like Reddit, for example. For any topic you can imagine, there's a thread full of folks who want to discuss — especially when it comes to career-specific topics. You'd be surprised at how much rich advice and expertise is dished out in these forums. If you hop on Reddit and type in your area of career interest, there's almost certainly several threads with folks like you swapping advice, asking questions, and networking like crazy. 
Hear us out here — while MeetUp normally works to facilitate in-person connections with people of similar interests in the same communities, they've recently moved all of their events online. On MeetUp, you'll find nearly 400 different groups of people connecting over anything from programming to water sports to creative writing and more. It's worth checking out some of the groups on MeetUp right now, especially since most events are no longer restricted to specific cities. 
For Preparing for the Virtual Interview 
Let's face it, video interviews are probably our new reality. While it may feel less personal than your traditional interview, companies are loving how flexible, convenient, and fast it can be to hop in and out of interviews on video. If you've never interviewed this way before, now is the time to get comfortable with all of the tools you'll need to pull off a successful virtual interview. 
Video Conferencing Tools 
The conference platform that you'll use in your interview will vary from company to company. At Planted, we use both Google Meet and Zoom for video interviews, but there are several others, so it's a good idea to get comfortable using all of them. Here are the most common conferencing platforms used by companies to interview: 
Interview Prep Workshops 
You can peruse the internet for video interview tricks & tips till you're blue in the face — there are hundreds of blog articles and how-to guides covering virtual interviews on the other side of a Google search. But the next step up? Attending a virtual workshop and getting exclusive advice from one of the pros. Depending on the workshop you choose, you'll be privy to a bunch of valuable info that your competition on the job market might miss out on — so start searching around for interview prep workshops being hosted online. For starters, we found this great recorded interview workshop from Udacity. 
For Getting Your Resume in Shape 
It's always a good idea to get a few extra sets of eyes on your resume before shipping it off to prospective employers. While you're likely familiar with the practice of emailing your resume to a trusted mentor or colleague and asking for feedback, there's also a lot of value in getting a review from a third party who has no knowledge of your background. This way, you can get an idea of how a stranger will perceive your resume and gather changes you should make accordingly. Check out these resources we found for getting a quick resume critique online: 
This free resume review tool is super simple. When you go to TopResume, you'll quickly upload a copy of your CV and over 48 hours, their team will review your resume for style, organization, writing, and more. Then, you'll be sent an email report detailing what you're doing well and what you can improve upon. 
The process for this platform is similar to the one above, except you can expect to receive instant feedback because Resume Worded uses AI rather than human team members to rank your resume. Although it's operated by AI, Resume Worded delivers some of the most in-depth resume suggestions available, with your resume critique being broken up into four categories: Impact, Brevity, Style, and Average Bullet Score. Not only does Resume Worded perform a line-by-line analysis of your resume, they'll give you an overall resume score that you can use as a benchmark for improvement. 
Planted's Resume Review Office Hours 
Last month we kicked off our one-on-one Resume Review Office Hours, giving Planted users an opportunity to connect over video with one of our hiring veterans to get tailored resume feedback and ask any resume-related questions. This option provides a more open-ended opportunity to not only get critical feedback, but to explore any other questions you have about your resume. We're hosting another session soon — so keep an eye on Planted's social media feed to find out more and secure your spot. 
For Building Your Skills
We want to preface this one with a disclaimer: just because you have extra time on your hands right now does not mean you have to learn all the things and master a brand-new craft. Now is a great time to enrich yourself as a job candidate with a revamped skill set, but before diving in — be careful not to put any pressure for perfection on yourself; even if you only spend an hour or two a week tinkering around with your new skill, that's enough. 
Our recommendation is to take a look at your skills and decide what gaps you'd like to fill in in order to hit the job market with a set of marketable tools in your tool box. In the recent months, dozens of platforms have vamped up their free class library where you can take courses on almost any topic you want to learn about. Here are some that we like a lot: 
Our friends over at General Assembly have begun hosting Free Fridays. Every week through June, you can join peers from around the world to experience some of GA's most popular workshops for free online. From coding to data and marketing, to UX design and career development, courses at GA will keep you in demand and in the know. Head over to GA's website to browse the free courses coming up in May & June. GA is even offering members of the Planted community 50% off GA NYC workshops on their website with the discount code Planted50 until the end of the year! 
Not only will freeCodeCamp teach you how to code for free, they also have an online community forum, chat rooms, online publications and local orgs that you can connect with to continue learning. They've recently aggregated over 450 Ivy League courses that you can take online for free right now. 
You've likely heard of Skillshare before — they're one of the largest online platforms for learning animation, design, illustration, film, business, writing, and more. Amid the pandemic, they've opened up their extensive course list to give new members, high school, and college students two months of free classes. 
A search engine platform with tens of thousands of courses, hop onto ClassCentral and search for whatever you want to learn. Chances are, there are more than a few (hundred) independent and instructor-led online classes to help you master your skill. They've recently published this continuously updating list of free courses available online during the pandemic. 
For Tailoring Your Online Presence
It's no secret: your prospective employers are Googling you. Now is a great time to ask yourself, 'What's going to come up?' While we all love the fun and freeing feeling of posting our personal experiences on our respective social pages, it's important to stay cognizant of the stories we're telling to the world. While you may think, "I'm good — I've never posted anything nefarious," getting an outside opinion on your online behavior is the best way to cover all your bases. Here are a couple of personal branding/social scrubbing tools that we recommend: 
When you input your social media profiles into BrandYourself, their AI will continuously scan your online activity for red flags and deliver you a weekly email report with a 'Reputation Score' to help you improve over time. BrandYourself takes the employer perspective and analyzes how professional you appear to be based on online screening done by hiring organizations. 
Leaving no stone (or status update) left unturned, Scrubber will scan through your comprehensive social history looking for posts, comments, updates, and pictures that might come off as embarrassing or unprofessional. They run a quick scan of any account you provide for free and report back everything they find. 
While it is undoubtedly tougher than before to make meaningful career connections right now, keep in mind: flexibility is key, and so is getting prepared. Until we can safely attend workshops and networking events again, we hope you consider the tools above to kick your job search into high gear. We're confident that with the right tools in your toolbox, you're well on your way to becoming a pro digital job seeker in the distance age. Once you feel confident and are ready to put yourself out there, check out all of the in-demand openings we have available on Planted now.