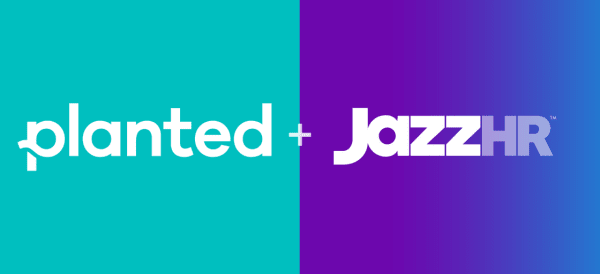 We're excited to announce that our ATS (Applicant Tracking System) lineup just got a lot more inclusive with the integration of JazzHR! Earlier this year, we integrated with Greenhouse, and now we're expanding our ATS compatibility even further. JazzHR is a powerful, user-friendly recruiting software, built to help growing companies exceed their recruiting goals. JazzHR's software replaces time-wasting manual hiring tasks with smart software designed to help recruiters and hiring managers recruit and hire top talent, fast.
Companies who use both Planted and JazzHR can now review candidate profiles from Planted, move candidates through their pipeline, and update current applications all in one place. JazzHR users will now automatically receive curated candidates from Planted straight into their JazzHR account, creating a faster, more secure transition from application to hire all within one platform.
Together, Planted and JazzHR users can now easily share powerful job and candidate analytics across both platforms. With automated job and candidate updates syncing across both platforms, Planted is able to leverage real-time feedback to improve the quality of candidate curation and assist in accelerating the recruiting process.
If you use JazzHR to hire, you can get everything set up in seconds — just head over to your Planted account to get started and reference these easy instructions ! We've made it way simpler to import JazzHR jobs directly into your Planted account with just a couple of clicks. Once you've connected your jobs in JazzHR to your postings on Planted , we'll automatically send your curated applicants to JazzHR and all future candidate updates will be synced across both platforms!
With such a seamless setup, what are you waiting for? Head over to Planted now to set up your JazzHR integration. If you're not a JazzHR or Greenhouse user, let us know which ATS integrations you'd like to see next by emailing us at support@planted.com . 
For more details on this integration and how it will impact the Planted platform, check out the full press release.