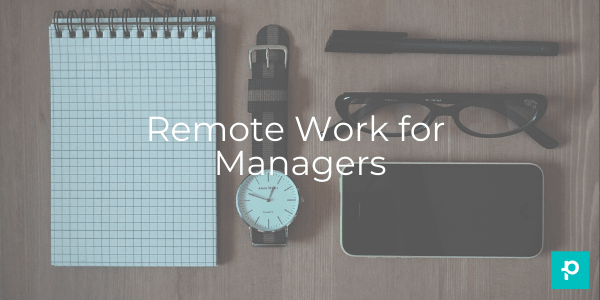 While everyone is adjusting to life while being self-quarantined, managers around the world find themselves having to manage their folks a new way. Now that your employees are working remotely, what does your job look like? How do you make sure people are on task and things are getting done? A lot of the tricks more traditional managers use for those tasks just don't work in a remote world.
The first thing you have to accept about remote work is that it's not just doing the same thing from somewhere else. Managing remote employees successfully requires a cultural shift in your organization and changes to how you manage people. You can no longer manage by "presence," because your people aren't sitting at desks in your office. You can't make the rounds every day at 9 to make sure everyone is in their chairs looking busy. Instead, you have to manage their output, which is a huge transition in mindset, management style and the amount of data you have to process as a manager.
Thankfully, a lot of companies have been doing remote work for years and there are a host of best practices you can follow!
Team Communication
You need to find a replacement for collocated face to face communication - those "Hey, do you have a sec?" interactions account for a larger chunk of the day than you'd like to admit. Replacing these interactions is sneakily the hardest part of remote work! If you're not already using Slack (or Microsoft Teams or another company chat app), now would be a great time to start.
It's time to seriously think about how you communicate with your team - and the expected response times to the various kinds of media we communicate on. Let's go through a quick partial list of those varied methods of communication:
Phone
Text message
Email
Support system ticket
Message in a regular Slack channel
Direct message in Slack
What is the expected turnaround time for each of these? Is it documented? Is it socialized? Does everyone on the team know how to use each of them? If there is an expectation for response, is it measured so you can fix it when it breaks?
Not everything is urgent. Some things are. Knowing the right medium to use for the urgency of the message is something that your team needs to agree on, and if needed, enforced.
Keeping Slack Sane
It's a balancing act to keep the channels in Slack under control. At Planted, we have a lot of them, but they mostly break down into the following categories:
Whole team daily communication:
#general: Used for announcements, presence and questions to everyone about work.
#random: This is the culture factory. Memes, jokes, conversations about non-work things and kittens. And corgis. (We have a channel called #aww for all cute animals, but the cute animals seem to run riot over all of our channels).
Team-specific: Each team has their own channel, and sometimes, people from other teams get invited into them temporarily for specific issues, questions or collaboration.
Event-specific: We had our team holiday party in Denver last year, so we created a channel just to hold discussions about the trip, called #denver-2019.
Topic-specific:
#p1-issues & #p2-and-p3-issues: Bug reports based on severity. This is where everyone in the company can report issues, get help from the dev team and solve problems together.
Other examples of topic specific channels:
#remotelife - Tips for working remotely
#plantedgetsfit - Document the struggle
#allthefeels - Where we share awesome comments from companies and candidates
Your team is going to have its own set of channels. It's OK to move things around and find what works for you. Be sure to experiment and make sure you set up a code of conduct everyone abides by. It's easy to get too comfortable when it's just text.
Get Integrated
There are now integrations for Slack with almost every SaaS product out there. Use them! Make Slack the hub of where work gets done. Once Planted made the move to Slack and really got things integrated, our emails to each other dropped by over 90%. If you use a work-tracking system like Asana or Pivotal Tracker, add the app and make sure it's in the appropriate channel!
The goal is to get the right information in front of the right people at the right time so they can act on it. (see OODA Loop). Setting up the right alerts from the apps you already use to show up in Slack (you know, where the people are) is essential to making things run smoothly.
Meetings
Successful remote meetings are a lot like successful in person meetings, the logistics are just a little different. We use Zoom for larger meetings because the "Brady Bunch" view allows you to see everyone, and with more than 8-10 people, the audio and video quality is better. For one on ones and meetings up to 8 people, Google Meet works fine.
Keep the Video Lights Burning
One of the things that seems to be universal across remote organizations is the emphasis of using video in meetings. We've found it allows for easier collaboration and quicker decision making because you can catch visual cues, body language and people can literally raise their hands when they want to speak.


Practical Rules for Video Calls
If you're not talking, mute yourself. Keyboards are loud, construction and sirens are noisy, and no one wants to hear you chew.

Don't have your camera pointed at the bathroom, especially if you live with other people. Save your partner the embarrassment of being this week's "surprise guest star" in your all-hands meeting.

Share your screen. It's super helpful to have whatever presentation you're giving or thing you're demoing right there in front of everyone.

If you have a lot of people in meetings regularly, develop a system for requesting to speak. Some people use a system of actually raising their hands, or putting it in the built-in chat that they'd like to say something.

The more people you have in a video call, the less likely you are to get things done, so limit the number of people in each meeting. The perfect meeting size is a lot like the perfect team size: 7, plus or minus 3.


The Business Mullet
This is a term I've used for years to describe life on video calls. It's important if you're working and on video to be presentable. That means remembering to take a shower and put on a clean shirt. But, the bright side is that no one can see you below your shoulders, so you can wear whatever pants you want! I prefer work out shorts or sweatpants, but pajama pants are great, as are kilts, sarongs, you know, whatever works for you.


Have The Right Hardware
Having a headset with a microphone is super important. Most computer mics pick up a lot of background noise and don't carry voices very well.
If you can afford it, get a good pair of headphones and attach an Antlion Modmic or Drop.com's Minimic to it. It provides the best of both worlds: great sound quality in your ears, and the best possible version of your voice in everyone else's. The next best option is to buy a dedicated headset for calls - gaming headsets work well for this, even if you do end up looking a little like a helicopter pilot in the process.
For cameras, if you don't use your laptop screen as your main monitor while at home, get a separate webcam, so you can look into the camera during the meeting. Eye contact is still important, even when your face is inside the computer.
For more tips, check out Truss's post on effective remote meetings.
Check On Your People
With everyone somewhere other than your office, you won't be able to "make the rounds" like you used to. You also can't just look at the office to see who's there. In our first remote work post, we talked about using Slack and presence indicators to show presence. As a manager, you need to go one step further and show availability. Depending on the size of your team, you may need to do this in different ways.
Be Intentional
As a manager in an office, there are signals you can observe that someone needs help. In a virtual office, none of those signals are the same, and the "digital" versions of them take a while to get used to. Until you do, you need to be extra proactive about communicating individually with your employees to make sure they're on track and are getting the support they need.
You'll probably want to schedule more frequent one-one-ones, though they can be shorter than usual since you're having them more often.
Make the Time
Be sure your people know that you're available. If you have a larger team or manage multiple teams, set up office hours where anyone can grab 15-30 minutes of your time. Socialize when you're online and normally available. Use your activity status in Slack to show when you're in meetings using the Google Calendar app.
Your people will follow your example. If you're not willing to jump on a video call to hash out an issue, don't pay attention on video calls, and are distant and not showing presence effectively, neither will they.
Managing the Work
This is where the cultural shift for managers is the hardest! The best book I've read on the subject is Why Managing Sucks and How to Fix It, all about Results Only Work Environment (ROWE).
Especially now, with people juggling their kids being home from school all day, partners who don't normally work from home now being shoved into the same home office, and the stress of the unknown, everyone's more than a little distracted. Acknowledging that and giving people space to process that will go a long way to getting people back to their normal productive selves. Your people still need you to lead them, but how you do that will probably need to change.
Get Agile With It
Development teams have done "standups" for years as part of their Agile project management process. It's a short daily meeting, usually first thing in the morning, where everyone answers the same three questions:
What I did yesterday

What I'm doing today

What I need help with
If someone does need help with something, then someone else in the standup volunteers to help them, and they can get together after the meeting to solve it.
Depending on the size of your team, the meeting can take up to 30 minutes, but most teams of 7-10 can get them done in 15 minutes. It will take a while to get the process down, but it's a great way to get a health check of your team first thing in the morning and make sure everyone has their priorities in check and are working on the right thing. Another great part of agile processes is the retrospective. Each of our teams at Planted meets every two weeks to review their progress and answer the following questions:
What went well?

What didn't go well?

What are we going to do differently next time?
For remote teams, it's a good idea to circulate a shared doc at least a day before the meeting with those three headings in it and allow people to add their input before the meeting. This is also a great way to make sure more introverted team members are heard. It helps set the agenda for the meeting, which makes it go more smoothly.
Doing retrospectives well takes time. It's going to be rough at first, especially getting to a point where everyone is comfortable sharing what didn't go well. The point of Agile processes is to make sure your team is making constant incremental improvement over time, and to make sure that issues on the team are addressed when they come up, and done in a way that increases accountability. In order to do that, you have to create a space where people feel safe being completely honest, take ownership of their part in the process, and work together to improve it for everyone. Retrospectives are the most effective way I've found to do that in over 20 years of working on product teams. Atlassian has some good information on running effective retrospectives.
Processes: Results Over Presence
If you haven't already, now is a great time to document and start measuring your processes. Since you can't see your employees and what they're doing all day, you need to measure the results of their work and not just that their butt is in a chair.
It's time to make sure you're getting all the data you need, instrumenting your processes, and doing experiments to improve those processes. It requires you, as a manager, to pay attention to how things get done, how long they take, and who's doing them.
If you're not already using a task tracking system like Asana or Pivotal Tracker, now would be a great time to start! They allow you to get rich data about how long it takes your employees to get things done, allows them to collaborate on tasks, and shows you the work moving through your system.
Let It Get Shifted
With families adjusting to this new reality, it's going to take some time for people to find systems that work for them. The best thing about remote work is that it can happen anywhere and any time. Let people move their schedules around to fit child care realities. Help troubleshoot issues with them and find a way to make it work - because it will. The flexibility of not having a commute, of not needing to be in a specific location from one time to another is a huge win - take advantage of it! Let people work when they're most productive, not just from 9-5. It takes some trust, and some juggling when it comes to scheduling meetings, but if you manage the work over managing their presence, you'll see great results in no time.
We shared it in the last post, but Truss has a great playbook for distributed teams! There are also some good tips in this Thoughtbot post.
In conclusion, managing remotely isn't that different from managing people in an office. Your goal is still to make sure your employees have the support and tools they need to get things done. How you accomplish that in a remote world is just different enough to be a little uncomfortable. But, with some effort and teamwork, we can all get through this crazy time together.
There's tons of talent looking for remote opportunities on Planted now and it only takes a few minutes to get set up, so head over now to create your company profile and start posting!