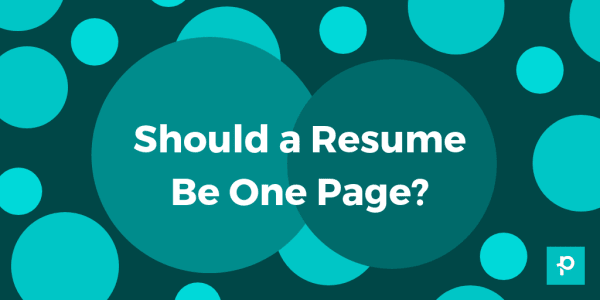 The debate over resume length is age-old. With so many articles but a total lack of objective statistics, it can feel impossible to know if there's a hard-and-fast rule when it comes to resume length. That's why the Planted team decided to get to the bottom of this question: we dug into our user data — a sample of 82,000 candidates — to answer the most burning question on job seekers' minds: should a resume be one page?
What Does the Data Suggest?
After doing some serious number-crunching, we found that candidates with one-page resumes are 30% more likely to land an interview than those with two-page resumes. We had a hunch that shorter would be sweeter, but we didn't anticipate it would be that sweet.


Do Hiring Managers Agree?
Don't just take our word for it. At our How to Get Hired at a Startup panel earlier this year, we asked three hiring managers to weigh in on resume length. Their answers were unsurprisingly unanimous: one-page resumes win. Paul Gulino, who leads the Talent Acquisition team at Knotel, put it bluntly: "nobody wants to read a three-page resume." Amanda Affrunti, a Talent Manager at KeyMe, proudly identified as a "one-page resume person." And Emily O'Connor, CEO at ContentWriters, agreed, adding that candidates can take the opportunity to elaborate on their experience and interests beyond their resume during the interview stage.
Why Less Is More
It may seem impossible crazy to squeeze all of your awesome experience down to just one page, but there are a couple reasons why it's necessary. First, hiring managers usually only spend about six seconds reading (well, skimming) your resume. As a job seeker, wouldn't you want to highlight your most relevant experience and skills for the fraction of a minute you're being considered for a position?
Second, your resume is more than just a document to describe your accomplishments — it's an opportunity to demonstrate that you can be organized and concise. Whether you're looking for a job in marketing, sales, customer success, or project management, these qualities will always work in your favor.
Think about it: when candidates include every position they've ever held or overwhelm hiring managers with a long list of bullet points, they aren't exactly making the best first impression. Nine bullet points for a single role is more like a laundry list, and it shows that you haven't thought through how to structure your contributions and achievements properly. Not sure how to set up your resume for success? Check out our Resume Tips section of the blog!
While you're making those edits, keep in mind that it's better not to waste precious real estate on references or a wordy objective statement.
TL;DR: When in doubt, always aim for less over more. Even if you're a seasoned professional with years of experience, go with a one-page resume and impress them further in the interview.
Need help reining in your resume? We've got your back. Check out our resume template here!
---
Want to put your new-and-improved resume to good use? Sign up for Planted and get matched to opportunities at awesome startups and other high-growth companies.