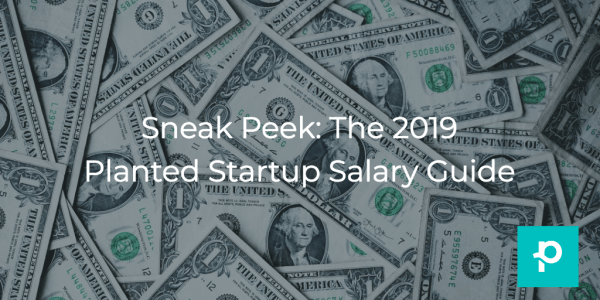 A core part of any candidate's offer package is the salary figure. In today's competitive market, the salary is key to attracting and retaining top talent and represents what candidates' varied skill sets, experience levels, and responsibilities are worth to your organization.
But figuring out salary ranges isn't always an easy process—and we want to help. We've worked with thousands of innovative and growing companies over the years, and we're excited to announce that we're rolling out our very first Planted Startup Salary Guide in early 2019. To give you a sneak peek of what we're working on, we're sharing the average salary figures for the most in-demand business roles on Planted in 2018.
2018 Salaries at a Glance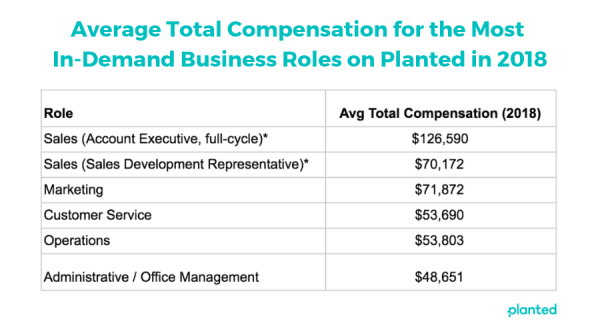 *For sales roles, we found that most companies offer their sales teams some type of commission on top of a competitive base salary. Full-cycle Account Executives earn an average of nearly 40% compensation through commission and a base salary of $66,000, while Sales Development Representatives earn an average of 20% compensation through commission and a base salary of $46,000.
The majority of these positions are based in New York City and San Francisco. While our full salary guide will include a breakdown of average salaries by city and experience level, we hope that the above figures will help you benchmark your salary figures as you plan your hiring strategy for 2019.
Keep in mind, NYC: the minimum wage will rise from $12.00 to $13.50 for companies with 10 or fewer employees and from $13.00 to $15.00 for companies with 11 or more employees on December 31st, 2018. Don't forget this when adjusting your wages to remain competitive with hourly jobs that your candidates may be considering!
As for San Francisco, the minimum wage rose from $14.00 to $15.00 per hour on July 1st, 2018, and will be adjusted again on July 1st, 2019 based on the Consumer Price Index.
Need Help With Your 2019 Hiring Plans?
We've got a candidate pool of 150,000 qualified candidates and counting looking for exciting new opportunities in sales, marketing, customer service, operations, and administration, and more. If you're looking for top business talent in 2019, click here to get started!