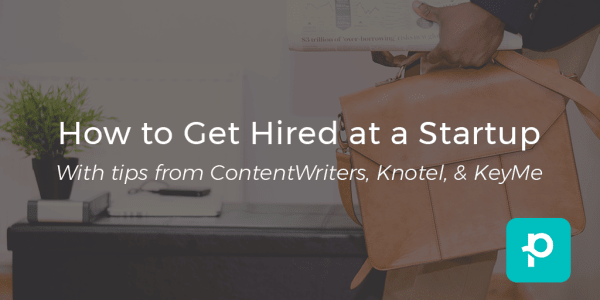 Itching to ditch your boring desk job to break into a dynamic, high-growth startup? You're not the only one: last week, dozens of job seekers joined us at General Assembly's NYC HQ for the inside scoop from growing startups.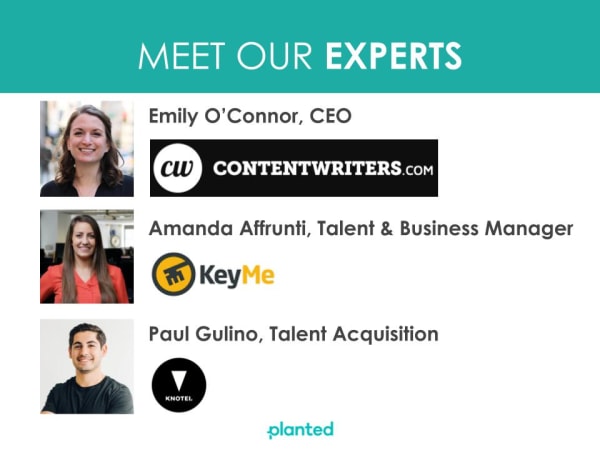 We were joined by three startup veterans who shared their experience and perspectives as well as pointers for potential applicants: Emily O'Connor, CEO at ContentWriters; Paul Gulino, Talent Acquisition at Knotel; and Amanda Affrunti, Talent and Business Manager at KeyMe. Check out what they had to say below, and don't forget to join us at our next panel at General Assembly — not only will you get a ton of insider information, but it's also an invaluable networking opportunity!
1. On how they got started at their companies:
Paul: "I was originally going to be a teacher, but a friend of mine at Zocdoc helped me land an entry-level sales role where I was making 80-100 calls per day. I did really well and moved into a sales executive role, but I soon realized I wanted to move into recruiting, so I switched teams. I spent two years there before transitioning to an agency, but I knew I really wanted to be at a startup that was blowing up — and I wanted to get in at the right time.
"I've been at Knotel for about two months now. We're about 115 people, but we want to double that by the end of 2018. We are growing explosively from headcount to revenue to square footage! It's been a crazy, fun, motivating ride."
Amanda: "I thought I wanted to be a nurse, but took a little break from school, did some freelancing, and eventually, this job sort of fell into my lap. There weren't many people working at KeyMe at the time, so there was a lot of opportunity. And there still is! I did everything at the company, from cutting keys to fulfilling orders to, now, all of our HR operations. I personally feel like home here — probably because I've been at KeyMe for so long — but even people who've been here for just a few weeks feel the same way. We go out of our way to make our team feel empowered and set new hires up to succeed."
Emily: "I actually worked at a SaaS startup after college for about 8 months. After a summer in Montreal, I got into freelance writing, which evolved into SEO, content management, and social media. I worked with a media company that led me to a job at ContentWriters; at first, we were just a content platform with one salesperson, but since then we've developed new processes, hired talented writers, and found great clients. I started out managing our writer network but took on the CEO role after my former manager stepped down. We're at 10 people now but this year we plan to grow to 20, and we also have over 500 active writers in our network — definitely a growth phase!"
2. On the qualities candidates need to succeed at a startup:
Paul: "If people are smart, humble, driven, intellectually curious, and buy into the mission of the company, we won't turn you away just because you don't fit the exact job description — we'll try to find a home for you. We're looking for long-term fits on our team."
Amanda: "We like to see innovators, and we're definitely looking for go-getters who are scrappy and willing to do the work. But hiring is a matchmaking process — it has to be a good fit for us and for you. That's something I tell interviewees, actually: you're not just being interviewed, you're interviewing us as well.
"You don't have to be nervous because you may turn us down if it's not a match! That's one of the reasons why we have applicants for every role interview with KeyMe employees from lots of different teams. It's all about showcasing your personality; we want to know who you are."
Emily: "We hire based on shared values. During our interview process, we meet applicants multiple times: we go out to lunch, we have them meet people from different departments. It's important that candidates understand what we're doing and that they want to do that, too. In our case, we want people who believe in quality content. If we recognize that we have shared values and think this could be a mutually beneficial relationship, we'll try to find something for you. Show you care!"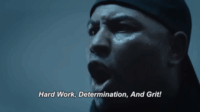 Gotta vibe with what a startup's all about. Via Giphy .
3. On what to do (and not to do) in an interview:
Paul: "Some of the worst interviews I've had are when people are nervous. It should be a free-flowing conversation. And don't try to be somebody you're not — there are a ton of startups, so even if one isn't the right fit for you, chances are there's another one out there that is. And don't give fluffy answers; be prepared to give concrete examples to back up what you are saying."
Amanda: "Agreed, don't be nervous! Also, know what the company does and why you want to work there. Do your research and drive the conversation."
Emily: "One of my favorite interviews was with a salesperson who's starting soon, actually: I asked him a question about how he'd pitch ContentWriters to an agency, and he immediately launched into a role play. I wasn't expecting it, but he asked all the right questions and it was so natural and impressive. So the lesson from that is: don't be afraid to ask questions, especially if you don't have all the answers! Interviewers are happy to help; we're not trying to throw you off or put you on the spot. Also, send a follow-up email within 24 hours of your interview!"
4. On misconceptions people have about startups:
Paul: "That they are all frat houses!' Also, startups often have great perks, but the hours can actually be longer than at larger companies. One misconception is that people don't work as hard at startups, but that's not true — often it feels like we work harder."
Emily: "People do tend to wear a lot of hats at startups, but each company has a workflow and positions that are currently open. Yes, you'll learn about many different things and be exposed to different aspects of the business, but you'll still have a job and duties related to that job. Not everyone can be a jack-of-all-trades — working at a startup doesn't always mean you get to do everything, even if there are a lot of opportunities for growth."
5. On advice they'd give applicants:
Amanda: "Find unique avenues into the companies you want to work at. Look someone up on LinkedIn and tell them about an opportunity you're excited about. This shows that you care and that you're innovative, and that goes a long way. Also, level up your resume! Make it easy to read and easy for hiring managers to figure out your experience and skills."
Emily: "Play to what you know your interviewers are looking for, and tell them how you'll add value. Put yourself in their shoes. And be prepared to give examples!"
Panelist answers have been edited for length and clarity.
Want to find a job you'll love? Sign up for Planted and get matched to opportunities at some of the coolest startups and other high growth companies.