It's that time of the year again….the sun is shining, the sangria is flowing, and the Princeton Review is releasing their "Best Colleges" ranking list. Since a lot of the job seekers we talk to have entrepreneurial sparks, we decided to take a look at the "2015 Top Entrepreneurial Undergraduate Programs."
Scoring at the top of the list this summer for the 18th straight year is Babson College. At, Babson, "students, faculty, and staff work together to address real-world problems and make a difference in the world through Entrepreneurial Thought and Action." Take a look after the jump to see if your school made the list:
Babson College - Babson Park, MA
University of Houston - Houston, TX
Baylor University - Waco, TX
Brigham Young University (UT) - Provo, UT
University of Oklahoma - Norman, OK
Syracuse University - Syracuse, NY
Northeastern University - Boston, MA
University of Southern California - Los Angeles, CA
City University of New York--Baruch - New York, NY
Miami University - Oxford, OH
Temple University - Philadelphia, PA
University of North Carolina at Chapel Hill - Chapel Hill, NC
University of Dayton - Dayton, OH
Clarkson University - Potsdam, NY
DePaul University - Chicago, IL
Washington University in St. Louis - St. Louis, MO
Lehigh University - Bethlehem, PA
University of Michigan - Ann Arbor, MI
University of Washington - Seattle, WA
Texas Christian University - Fort Worth, TX
University of Maryland, College Park - College Park, MD
University of Arizona - Tucson, AZ
Saint Louis University - Saint Louis, MO
Bradley University - Peoria, IL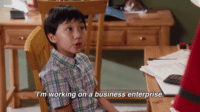 You gotta start somewhere. Via Giphy .
Don't see your school? No need to worry. This is the perfect opportunity to take some initiative and help spread the entrepreneurship love on your campus. Start an undergraduate entrepreneurship organization, take part in a hackathon, and network with business-minded alumni. College is the perfect time to discover how to make the most out of the resources available to you. With the right hustle, you could be entrepreneurial anywhere (Steve Jobs did it in a garage).
If you're a recent graduate looking to break into the startup scene, sign up on Planted and light up that entrepreneurial fire!