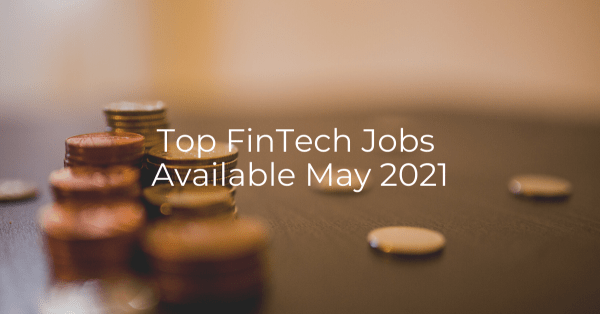 Since what seems like the dawn of time, (or the internet) we've been using technology to help manage our money. Fast forward a few decades and now, there's an app for everything finance-related: tracking your spending, building your credit, investing your money, on and on. However, certain innovators have gone above and beyond — breaking outside of the typical fintech box to test the barriers of what tech can really do for our finances.
This week, we want to introduce you to the fintech powerhouses helping millions of people save better, spend more confidently, and build promising financial futures. Read on to learn more about the Top Fintech Jobs Available in May 2021:

Divvy
Why We Love 'Em 
Divvy's smart spend management platform is here to make sure teams never have to worry about going over budget again. Not only do they help small and mid-sized businesses unlock the funding they need, their platform empowers companies to ditch expense reports, take control of budgets, and manage invoices with ease. Top companies like Noom, Qualtrics, and more trust Divvy to manage spending and achieve transparent financial wellness. 
How They Got Started 
It's 2015: Divvy co-founder Blake Murray is living in Utah and running 6 locations of a restaurant chain called Pizza Studio. As part of the job, Murray has to track down faded, crumpled up receipts at the end of every week in an attempt to piece together his employees' expenses. As labor-intensive and tedious as this was, Murray still didn't have a full picture of the restaurant's finances til the end of the month. It was this frustration that sparked the idea for a system that could help small businesses kill expense reports entirely. Murray quickly recruited his childhood friend, now co-founder, Alex Bean to leave his job in software sales and join him to build Divvy. 
Funding 
Since 2017, Divvy has secured $417.5 million in funding across 5 rounds.
Who They're Looking For 
This past January, Divvy became a billion-dollar company backed by high-powered investors (which means that they're headed toward major growth!) As they continue to invest in their people and product every day, they're looking for some talented new team members to fill fintech jobs on their team. Right now, they're looking for top-tier professionals to join them in Finance, CS, Engineering, Marketing, Product, and more. 

Ellevest
Why We Love 'Em 
The financial industry wasn't built so that women could thrive — but Ellevest was. Ellevest is a first-of-its-kind platform working to empower women toward financial freedom and literacy. They know that the majority of the world's top earners and entrepreneurs are men, and understand the reason — the financial industry was built to cater to them. It's easy to forget, but it wasn't until the 1960's that women could open a bank account without a male cosigner. With a suite of financial coaching tools, investment guidance, and a debit card that works for your real life, Ellevest is minimizing the gender gap in the financial industry and putting more money into the hands of women.
How They Got Started 
Before Ellevest, Sallie Krawcheck was one of the most senior women on Wall Street. With 25 years of financial services experience under her belt, she sat on executive teams at Merrill Lynch, Smith Barney, and Citigroup. This first-hand experience in an industry built and run by men led her to an a-ha moment one morning, mid-mascara application. She realized the industry was not only built by men, but was built for men, too, which historically kept women from achieving their financial goals. Krawcheck then finished her mascara and decided it would be her mission to help women unleash their financial power, once and for all. In pursuit of this, she teamed up with co-founder and Ellevest president Charlie Kroll and together, they assembled the unstoppable teams that would become Ellevest.
Funding 
Since 2014, Ellevest has secured $91.4 million in funding across 5 rounds.
Who They're Looking For 
Team members at Ellevest make a difference through their work, have a direct impact on company goals, advance their careers, and make room for fulfillment every day. If that sounds like something you can get behind, you might make a great fit on the team at Ellevest. Right now, they're hiring new team members across Marketing, Engineering, Customer Experience, Operations, and more. 

Greenlight
Why We Love 'Em 
Most kids who attend public schools in the US receive the same kind of financial education: minimal. In fact, there's a good chance that unless parents take financial literacy into their own hands, most high school graduates don't have a clue what they're doing when it comes to finances. This is where Greenlight comes in! They've created an app-controlled debit card for kids and parents to teach lessons about money management & responsibility. And this isn't just a reloadable allowance card, either. With Greenlight, kids set their own financial goals, make tradeoff decisions, and learn the value of saving. 
How They Got Started 
Greenlight was founded in 2014 by CEO and consumer fintech veteran, Tim Sheehan. Sheehan drew inspiration from a few different places when he began building Greenlight. First, his own parents made it a priority to give him a robust financial education early in life. During conversations with friends later on, Sheehan began to realize how valuable the financial education he received truly was. He noticed that many of young adult friends were often completely oblivious to important finance knowledge that he had learned growing up. With this in mind, it became apparent that most kids weren't being taught to realize the value of money — certainly not in school, and rarely at home. After all, money is an abstract concept to kids, but when healthy habits and fundamentals are instilled early, they become repeated behaviors. Those repeated behaviors turn into habits, and make a huge difference later in life. With Greenlight, Sheehan set out to build a simple, straightforward system to help parents & kids develop those habits as early as possible.
Funding 
Since 2016, Greenlight has secured $556.5 million in funding across 5 rounds.
Who They're Looking For 
The team at Greenlight is made up of big thinkers making bold ideas come to life. As they work to transform financial education for millions of kids and parents, they're looking to grow their team with passionate, dedicated team members. Right now, they're hiring across Customer Service, Design, Marketing, Engineering, and more. 

Happy Money
Why We Love 'Em
Happy Money is breaking the mold because they see their mission as more of a movement than just a credit company. They're working to completely transform the way that we feel about our finances — turning borrowers into savers and making true savings a reality. Over half of American adults owe money on at least one credit card, and find themselves in a cycle of paying a monthly minimum and racking up interest. With Happy Money, credit users can pay off high-interest rate debt, find tools to save money, evaluate spending patterns, and more. They believe that the established banking setup keeps people stressed and stuck in debt, so they're here to build a happier relationship between you and your money.
How They Got Started 
In 2008, after decades of working in fintech, Happy Money CEO and founder Scott Saunders was struck by the reality that millions of Americans are being crushed under debt of some kind. It's no secret that financial stress also causes anxiety, fatigue, and a distrust of the financial industry. Saunders knew that the debt crisis only was getting worse and the way people felt about money was overwhelmingly negative. And it made sense with so many stressors being attached to debt! Equipped with research to prove that financial health impacts overall well-being, Saunders was inspired to combine psychology, technology, and finance to overhaul the way people feel about money. Now, millions of people are using Happy Money's tools to diminish debt, build savings and feel … well, happier about their money! 
Funding
Since 2010, Happy Money has secured $141.6 million in funding across 6 rounds. 
Who They're Looking For 
The team at Happy Money is made up of financial services professionals, marketers, technologists, service experts, data scientists, and designers on a mission to build tools and services for human happiness — and they're always growing! Right now, they're looking to hire new team members in Design, Finance, Marketing, Engineering, Product, and more. 

Petal Card
Why We Love 'Em 
More than just another credit card company, Petal is working to bring responsible finance to the modern world. Their mission is focused on expanding access to credit through technology, without fees. They're making strides with a new approach, using customers' banking history to measure creditworthiness based on income, spending, and savings. Petal is helping people all over the US budget, track, and build their credit on new terms, even if they've never had a credit card before. 
How They Got Started 
Co-founders Jason Gross, Andrew Endicott, David Ehrich, and Jack Arenas started Petal card because they realized that credit scores don't tell the whole story, but do present tons of barriers when it comes to getting access to reliable credit. After meeting with a friend who came to New York to study and work from abroad and learning about his near-impossible experience obtaining credit, they had to wonder — how many other responsible borrowers were falling victim to this chicken-before-the-egg approach? They built Petal to disrupt a system that's disproportionally biased unfairly toward young people, minorities, immigrants, and low-to-moderate income customers. With Petal, they're looking to create solutions for those underserved by an impossible credit scoring system, transforming consumer credit as a tool for financial resiliency.  
Funding 
Since 2017, Petal has raised $435.6 million in funding across 8 rounds.
Who They're Looking For 
Petal's success is due to a dedicated team of lifelong learners working together to expand financial access through technology. This diverse, knowledgeable team comes together from all sectors of the fintech industry to help build a new kind of credit system. As they grow through 2021 and beyond, they're looking for talented folks to join them for the long haul. Petal is currently growing their Marketing, Engineering, People, Finance, Analytics, and Risk teams in NYC.

Teampay
Why We Love 'Em 
Teampay is a SaaS solution helping companies like Bitly, Foursquare, and Zumper fall in love with their purchasing process. As the first purchasing software built for modern tech-enabled businesses, their system promotes efficiency with controls to request, approve and track expenditures in real-time. With Teampay, Accounting & Finance teams have complete control & transparency while empowering their coworkers and employees to be successful. By introducing automation, Teampay has been able to reduce the back-and-forth of manual purchasing processes so that their clients can focus on what matters: building their business. 
How They Got Started 
Teampay was founded in 2016 by tech entrepreneur Andrew Hoag. The inspiration was born out of his own frustration while trying to focus on a new business strategy. He found himself being constantly interrupted by employees and contractors requesting to use the company card for services, reimbursements, etc. Not only was this distracting, but operationally inefficient. With so many different people needing access to company funds — freelancers, contractors, specialized agencies, and remote employees — it made no sense that they would all have to contact their founder directly to spend money. Not to mention, information can easily go missing, resulting in an accounting nightmare. Hoag knew that there was no reason that company leaders and finance departments should spend so much time figuring out who bought what and why — and Teampay was born as the one-stop solution. 
Funding
Since 2016, Teampay has secured $21 million in funding across 5 rounds.
Who They're Looking For 
The team at Teampay is passionate about making company purchasing simpler and more enjoyable for everyone, and they're always looking for new team members who share their mission. Right now, they're currently hiring top talent across their Marketing, Sales, Product, Engineering, and Administrative teams. 

Truebill
Why We Love 'Em 
As we all know, managing money can be difficult. But you don't have to do it alone! Truebill is empowering its users to save more, spend less, and have complete transparency over their finances. They've gone far beyond your typical money management app with features to help keep track of (and cancel) subscriptions, analyze spending, budget, negotiate bills, and so much more. Over 2 million members are using Truebill right now to see where their money is going and keep more of it in their pockets. 
How They Got Started 
Truebill was founded in 2015 by brothers & tech veterans, Yahya and Haroon Mokhtarzada. The idea first came when Yahya was going through a credit card statement (something that not enough people do, realistically.) He noticed that although he hadn't flown recently, he had received a $40 charge for inflight WiFi. Upon further investigation, Yahya discovered he had been paying this charge for the past 14 months. Frustrated by the fact that his current budget tracker didn't catch this, he and his brother wanted to figure out how to stop this from happening to other people. They got to work creating an algorithm that would search credit card statements for subscriptions, and at a time where subscription services were starting to boom, they knew this had the potential to help thousands of people who also didn't realize they were being charged for something. They started with a solution to help people get rid of subscriptions without any headache, and have since evolved to create one of the world's smartest personalized finance apps. 
Funding
Since 2016, Truebill has secured $38.9 million in funding across 5 rounds. 
Who They're Looking For 
Truebill hires from all industries and looks for a diverse set of experiences in their talent. What's most important is a passion for creating services that optimize financial wellbeing! In pursuit of their ever-growing goals, they're currently hiring across Data, Member Support, People, Engineering, Product, and more. 
Whether you're determined to find the perfect fintech job this year or just diving back in to see what's out there, we'll be here with top career recommendations all year long! If you think you'd make a great match for any of the companies listed above, get out there with your resume and get after it! If you're looking to get an insider referral to a top, fast-growing startup, make sure to sign up for Planted now.