It ain't easy being a New Yorker, and it's even harder to be a healthy one. With the prevalence of dollar slices and Thirsty Thursdays, we could all probably use a little help staying in shape mentally and physically. Luckily, the startup community is out in full force in the healthcare space. Some companies build tools to support a healthy lifestyle while others tackle expansive issues of healthcare access, data management, and quality treatment. So, whether you're into nutrition or oncology, yoga or dermatology, there's an NYC healthcare startup for you.
Check out these 10 NYC companies currently hiring for non-technical roles and using technology to improve healthcare from all angles.
1. Audicus
Photo Source: audicus.com
Why they're awesome: With 20% of adults in the US experiencing some kind of hearing loss, the market for hearing aids is big (and all that bass isn't helping). Unfortunately, so are the costs, with traditional hearing aids priced at over $2K an ear. Audicus is a startup literally bringing music to people's ears for a fraction of the price. In partnership with German and US manufacturers, Audicus features 3 models for varying levels of hearing loss starting at just $399. Can you hear me now?
Who: Founded by Patrick Freuler.
Funding: $1.57M raised in April, 2014.
How do you infiltrate? Currently hiring for lots of roles including Customer Experience Specialists and Bilingual Sales Associates.
Size: 11 to 50 employees according to LinkedIn.
2. Doctor.com
Photo Source: Doctor.com
Why they're awesome: Doctor.com is where patient meets doctor and doctor meets technology. Patients can search for doctors when and where they need them, and doctors can manage their entire web presence from a single platform. For more representative reviews, Doctor.com helps practices set up online surveys on location to encourage everyone (not just the cranky folks) to share feedback on their way out of the doctor's office. We give them 5 stars.
Who: Founded by Andrei Zimiles, Gary Millin, and Reed Mollins.
Funding: $1.06M in Seed funding raised June, 2014.
How to infiltrate? Currently hiring for a variety of roles including Account Manager, Sales Development Representative, and Onboarding Specialist.
Size: 11 to 50 employees according to LinkedIn.
3. HERO
Photo Source: countingyourspoons.com
Why they're awesome: Brainchild & Co is reinventing the medicine cabinet with its brainchild, HERO. HERO is a sleek, coffee maker-esque appliance that dispenses a prescribed pharmaceutical cocktail at the push of a button. Safer than a child-proof cap and way less work than a pill box, HERO makes sure that no one misses a pill or mixes up a prescription. HERO supports multiple users so it can be used by the entire family and automatically syncs to an app that refills prescriptions when it's running low. What's good for you and your loved ones is also good for the rest of the world as 1% of all HERO purchases goes to global partner Watsi to fund healthcare all over the world.
Who: Founded by Kal Vepuri and Kut Akdogan.
Funding: Undisclosed.
How to infiltrate? Currently hiring for Customer Experience Associates.
Size: 1 to 10 employees according to LinkedIn.
4. Klara
Photo Source: slidesharecdn.com
Why they're awesome: Ever wish all of your your doctors could just gchat each other with your previous immunizations, last checkup, and health care history? Klara is the ultimate secure, seamless system of communication between patients and doctors, doctors and nurses, and doctors and other doctors. Beyond keeping all of your info straight, Klara also serves as a place for healthcare professionals to collaborate, compare notes, and get second opinions.
Who: Founded by Simon Bolz and Simon Lorenz.
Funding: $2.5M in Seed funding raised January, 2015.
How to infiltrate: Currently hiring for the Account Manager/Practice Success position.
Size: 11 to 50 employees according to LinkedIn.
5. Maven
Photo Source: modernmollie.com
Why they're awesome: Founded and funded by women, Maven is the "first digital clinic for women." Not only do women have unique healthcare needs but they make 80% (!) of all health care decisions for themselves and their families. Maven is made for women who already have it all, with affordable, easy-to-book video appointments and an emphasis on treating patients as people, not invoices. The future (of healthcare) is female, indeed.
Who: Founded by Katherine Ryder.
Funding: $2.2M in Seed funding raised April, 2015.
How do you infiltrate? Currently hiring for a Director of Content Marketing role.
Size: 11 to 50 employees according to LinkedIn.
6. Noom

Photo Source: Noom.com
Why they're awesome: While it may only take a few texts to get you out of your post-work PJs on a Friday night, changing long-term behavior is really hard. Noom is a technology platform that helps people with chronic disease like diabetes or hypertension manage the lifestyle changes that can save their lives. The platform syncs with health trackers like Apple Health, includes a dashboard for analysis, and makes it easy for a medical professional to remotely monitor and intervene when necessary. They've also built Noom Coach with similar planning and tracking features for generally healthy people looking to get healthier.
Who: Founded by Artem Petakov and Saeju Jeong.
Funding: $16.15M in Series B funding raised April, 2015.
How to infiltrate? Currently hiring for Health Coaches and Food Database Editors.
Size: 51 to 200 employees according to LinkedIn.
7. SkyMD
Photo Source: itelemedicine.com
Why they're awesome: From interview day to first date night, zits always pop up at the worst times, but SkyMD makes reaching your dermatologist and getting treatment as easy as Snapchat. Shoot a pic to your dermatologist and have prescription meds at the pharmacy without having to show your face outside of your apartment. Zit, zapped. Technology may be revolutionizing skin care for the better, but be grateful that digital permanence wasn't a thing while you were going through puberty.
Who: Founded by Eric Price and Murtuza Kutub.
Funding: $800K Convertible Note raised September, 2015.
How do you infiltrate? Currently hiring for Sales Executive and Growth Hacker roles.
Size: 1 to 10 employees according to LinkedIn.
8. YoJo
Photo Source: wixstatic.com
Why they're awesome: One company is on a mission to breathe some life into the workplace with customized yoga and meditation courses. YoJo is Yoga for the Co. Meditation as a concept has already infiltrated startup workplaces, but downward dog isn't quite synonymous with desk job yet. Run by a yoga teacher, YoJo partners with companies to bring yoga classes and workshops on site, leaving employees with no excuse but to zen out instead of zone out.
Who: Founded by Jessa Messina and Meghan Dziuma.
Funding: Unknown.
How do you infiltrate? No current jobs listed, but if you're interested we encourage you to reach out to them on their AngelList page.
Size: 1 to 10 employees according to LinkedIn.
9. Zeel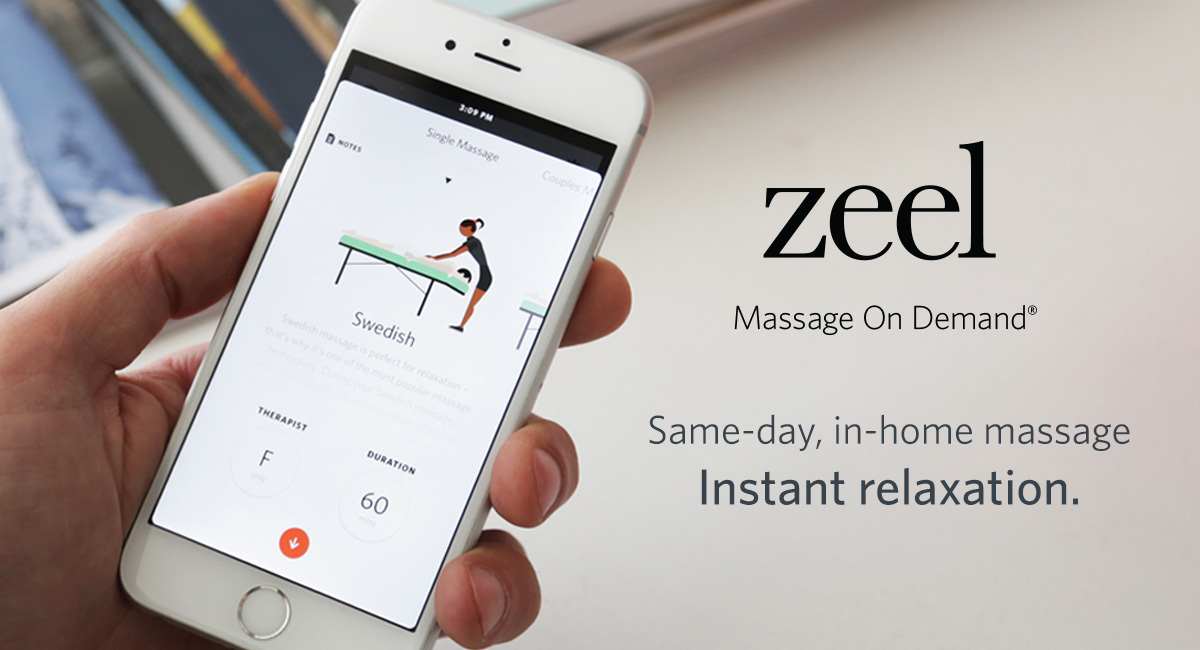 Photo Source: zeel.com
Why they're awesome: Talk about a startup that's got your back. Zeel connects you and your less-than-perfect posture with a licensed massage therapist. With same day bookings, Zeel will have you face down on a massage table in the comfort of your own home, hotel room, or office faster than you can say "spa day." The ultimate treat yo-self on-demand marketplace, Zeel reminds us that relaxation is required for a healthy lifestyle.
Who: Founded by Samer Hamadeh and Alison Harmelin.
Funding: $10M in Series A raised in March, 2016.
How to infiltrate? Want to work for Zeel? Check out their Operations Associate role, hiring now!
Size: 11 to 50 employees according to LinkedIn.
10. ZocDoc
Photo Source: carecloud.com
Why they're awesome: Whether you've finally outgrown your pediatrician or just moved to a new city, finding a new doctor can be just as frustrating as finding a new apartment. Like a combination of Yelp and OpenTable for healthcare, ZocDoc is the one stop shop to finding and booking your next doctor/dentist/dermatologist/optometrist/allergist/psychologist/OBGYN appointment. ZocDoc is built for millennials, as both a tool and an employer. Even though they've outgrown small startup status, they've been named one of the best mid-sized companies to work at by Fortune Magazine.
Who: Founded by Cyrus Massoumi, Oliver Kharraz, and Nick Ganju.
Funding: $130M in Series D funding raised August, 2015.
How to infiltrate? Currently hiring for Account Executives, Inside Sales Executives, Email Marketing Associates, Office Coordinators, and more!
Size: 501 to 1000 employees according to LinkedIn.
From behind the scenes to the forefront of medical technology, healthcare startups are making the world a healthier place to live and work. These companies, and many more, are on a mission to revolutionize healthcare and make sure the city that never sleeps also lives forever. Whether you care a lot about your own health or are just throwing it back to that time you were premed, the healthcare industry is one of the most exciting and rewarding areas to innovate.
Want a career boost but sick of sending cover letters to generic email boxes? Sign up for Planted here and take the first step toward a startup job and a happier, healthier you.
Becky Lee is a writer, educator, and previous media professional navigating the space between post-grad and real life. She majored in English and Psychology at Cornell University and is currently teaching in Brazil through the Fulbright U.S. Student Program. In her spare time, she enjoys photography, international travel and coming-of-age stories.