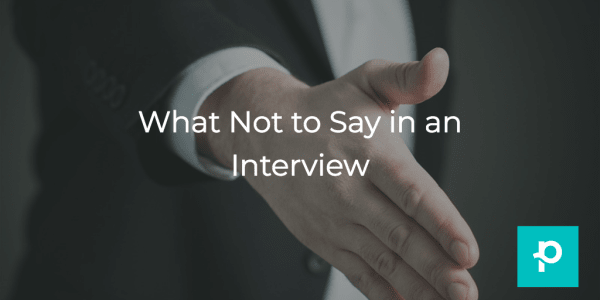 Not everyone is a naturally good at interviewing (and for those of you out there who are, we forever envy you). Instead of waltzing into the room, radiating confidence and ready to answer every question thrown your way with utmost poise, sometimes you may find yourself getting caught off guard by a question you aren't prepared for and then start to lose control over what you're even saying at all. No matter how poorly the interview may be going (even if it's all in your head), here are a few things you should absolutely steer clear of saying when you're interviewing.
"It's on My Resume"
The interviewer already read your resume, so what's the point of walking through what you did at your last job during the interview itself, right? Wrong. First, your resume should only be a short summary of what you've accomplished over the course of your career and should by no means speak for you, especially now that you've reached the interview stage. Second, the interviewer has brought you into the interview to hear more about your experiences directly from you, so now's the time to add some more details about all of the reasons why you have the experience and skill set to succeed in the role you're interviewing for! Take a moment to throw in any details you couldn't fit in on your resume and use this as an opportunity to show off your infectious personality.
"I Hate My Colleague/Team/Boss"
You're not always going to get along swimmingly with all of your colleagues, or even your boss. It's totally understandable. But your interviewer doesn't need to know that! Sure, they may ask you why you're looking for a new job or what challenges you've faced in your current role, so it's tempting to delve into your work drama when forming your answers. But remember to be diplomatic. How have you been able to accomplish some of your main goals and tasks (despite having a crappy, unsupportive colleague or boss)? Make any of the positives you've taken away from a challenging situation your main focus. Don't let difficult teammates affect your chances of getting a job you won't take them with you to!
"So What Do You Do Here?"
These days, it's imperative that you've done your homework on the company and people you're interviewing with before you even step foot into the office. Even if you're not great at social media stalking, do your research to get an understanding of your interviewer's role at the company. You should of course ask them more detailed questions if you want to learn more about their day-to-day, like what their proudest accomplishment at the company has been so far, or what they love about working there. But don't go in 100% clueless.
"Um...I don't know"
Your and your interviewer's time is precious. Don't waste it by stalling when faced with a challenging question, and don't fill awkward silences with the word "um." If you genuinely don't know what to say, take a quick breath, collect your thoughts for a few seconds, and get right to it again. If you need clarification on a question, by all means, ask your interviewer for some!
"I'm Sorry" (x10)
If you don't have the skill or experience level that an interviewer is asking you about, there's no need apologize for it. It may seem polite to profusely apologize for things that you don't feel you bring to the table, but this underscores your weaknesses when you could be using it as an opportunity to show your willingness to learn and enthusiasm to gain new skills. Instead of starting your response with an apology or pointing out the fact that you don't have the skills to carry out a certain task, say something like "I'm excited to grow my skills in ABC using my past experience doing XYZ." Always give it a positive spin!
Prepping for an interview? Don't be nervous! It's exciting that a company is interested in learning more about you, so you should be feeling excited too. Make sure to take a look at our very own interview prep worksheet so you're ready to go on the big day!
Ready to flex your awesome interviewing skills? Sign up for Planted and we'll match you with jobs at startups and growing companies. No cover letter required!
Karina Parikh is Planted's Content and Community Manager. After spending four years in New York working in both traditional and digital media, she recently returned to her hometown of Chicago, where you can probably find her eating (or thinking about) deep dish pizza.