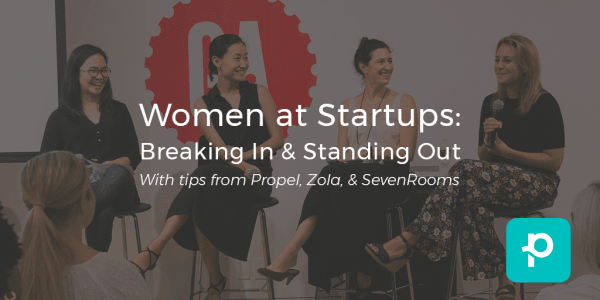 Curious about what it's like to work at a startup, but don't know how to go about it?
On Tuesday, we hosted a panel at General Assembly NYC where we had the honor of talking to three badass female leaders who shared their experiences and thoughts on all aspects of startup life, including how to land a job at and grow at one. Our panelists included Kate Furst, SVP of Operations at Zola; Hannah Ma, VP of Business Development at Propel; and Allison Page, Co-Founder and Chief Product Officer at SevenRooms. Take a look at what they had to say below!
On how they got started at their companies:
Hannah: After college, I spent a couple of years as a management consultant. All of the clients that I found most rewarding were in healthcare, because I loved thinking about these big macro questions that came down to fundamental concepts of fairness, like 'How can you make healthcare more affordable?' I always thought that these were really great questions to tackle at a startup.
After business school, I worked for Wal-Mart on a new healthcare team. It was super interesting, but then I moved from San Francisco to New York for personal reasons. I was looking for jobs at startups, and very serendipitously met the CEO of Propel. My favorite part of my job is definitely the variety. There is always that next project and strategic push to look forward to."
Allison: "I don't come from hospitality or tech at all. I actually did my undergraduate degree in finance and I am an investment banking alumni. When I graduated college, getting a job in tech wasn't even a thing. Coming from a finance background, the thing to do is just interview with every bank at Wall Street and take an offer. So I did just that and I actually met my co-founder at Credit Suisse. We shared a cubicle wall, so we spent a lot of late nights just staring at each other. We really just weren't passionate about what we were doing, and we were just trying to find something fun to do on the side. I have a creative spirit and like to be challenged, and I just wasn't getting that in finance. That's how we went down this path of pursuing a more entrepreneurial route."
Kate: "I thought I wanted to be a nonprofit lawyer when I was in college, but I quickly realized that I didn't want to go that route and ended up briefly working for my family business, which designs and produces handbags and leather goods. It was a really fast training in process and operations. From there I got into fashion pretty quickly, and fashion was my way into startups. I worked for 7 for All Mankind, and then I moved on to Gilt Groupe, where I met Shan, one of the co-founders of Zola. I liked trying new things and wearing a lot of hats—even when I didn't know what exactly I wanted to do, I knew that I liked doing that. I loved the pace and opportunity to do a million things and keep trying new things that I have never done before."
On challenges they faced when transitioning into the startup world:
Hannah: "I found it hard coming from a more structured background. Startups are fast-paced, and there is a lack of data and a strong need to be comfortable with your own gut instinct. All of this just gets easier with practice."
Allison: "When we started the company, we literally knew nothing. We thought we knew restaurants because we were stuffing our faces five nights a week at some of the best restaurants in New York, but in terms of building a product we knew nothing about design or UX and in general we knew nothing about hiring or fundraising. You have to love figuring stuff out and be okay with uncertainty and not knowing what are going to be the challenges today or tomorrow. That's part of the desire to work at a startup: rolling up your sleeves and digging in."
Kate: "It's all about prioritization. When you are at a startup, there are endless things that you could be doing, and you probably should be doing most of them. But you have to choose your priorities."
On misconceptions about working at a startup:
Hannah: "I talk to candidates who always say that they want to join a startup as a mostly reactionary thing because they didn't have great work experiences before. But that can make your startup experience that much harder. To work at a startup, you have to be able to articulate what you want to accomplish so that it gives you an intrinsic drive and motivation that is tied directly to your career and career decisions. Having clarity on what you want to get out of the experience is so helpful."
Allison: "That it's glamorous because it is literally the opposite. The things you take for granted at work today literally do not exist at a startup!"
Kate: "We often think about startups that are in another phase of growth. Google was once a startup and Facebook was once a startup, but that is certainly not the case now with the way the offices are or the way the salaries are. But at any startup, you have to find a way to compromise and work around the stuff that comes with the territory."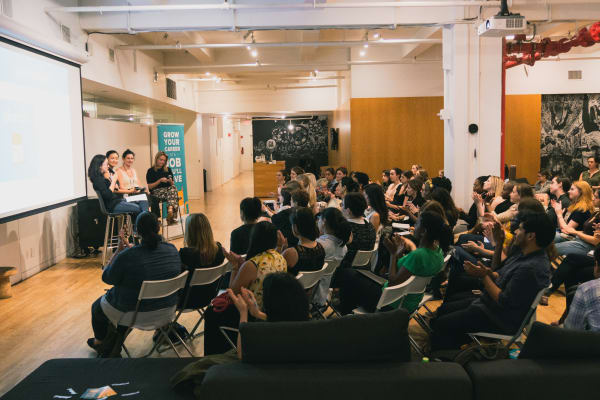 Photo credit: Bryant Magdael
On what their hiring processes look like and what they are looking for on resumes:
Hannah: "One of the things that we're looking for is a demonstrated interest in our mission. That comes through in a couple of ways: one is direct experience, and the other is extracurricular involvement. We also require candidates to answer two questions: 'Why do you want to work at Propel?' and 'Tell us about an accomplishment that you're proud of.' We can tell who has put in the time to learn about what we do and demonstrate who they are. I love to see grit and ownership, too. We had a summer intern who talked about setting up his collegiate club basketball team and how he hustled for uniforms and court space. He was able to talk at length about something that he built that he was passionate about, and that was impressive."
Allison: "A resume should not just be a list of bullets about what you did, but also why you did it so that you can show the impact that you had on the company and that you understand the bigger picture of why you were working on the things you worked on. I also like to see people have some quirky hobby or side hustle that they are working on. If you have something that isn't dead on for the role but it helps highlight your personality or tells a story, then it's worth including on your resume."
Kate: "We actually have trainings around interviewing and candidates because it's really important that we are putting our best foot forward when speaking with them. The first thing we do when we look at a resume is to cover up the person's name and where they live so we can truly evaluate their experience. It is important to show that you have relevant experience for things you are applying to a job for. You don't need to put every single piece of information on your resume, just lean into the pieces of information that differentiate you and what you think set you apart."
On resume length:
Hannah: "One page."
Allison: "One page, definitely."
Kate: "If you have a lot of relevant experience, then maybe two pages. But I want to talk to you in the interview. If you have reams of reams of resume, there's nothing left to talk about. The resume is a vehicle to a really interesting conversation."
On cover letters:
Hannah: "We ask for cover letters and we do read them! I want to know what you are looking for and why this role and company are a match for you specifically."
Allison: "I am not sure if we do cover letters, but I think it depends on the role. If someone is asking for a cover letter, do it. I would take an extra minute to put time and thought into it, too. People notice when the font is slightly different and that is an immediate reject for me."
Kate: "I am looking for a cover letter that you didn't just switch out the hiring manager and company name on. It doesn't have to be long, but any opportunity for you to express why Zola is interesting to you is great. At a startup, all bets are off with format, so just show that you are engaged somehow and in some way."
(Hate cover letters? On Planted, we don't use 'em. Instead, we encourage companies to provide candidates with a pointed Q&A, which functions as a cover letter and pre-interview all in one!)
On qualities they look for during phone interviews:
Hannah: "We're a small company, so we're always thinking 'Is this someone that could be a good fit for a role my teammates are hiring for?' It's helpful for candidates to be super honest at this stage because we don't want anyone forcing themselves through the process if they are no longer interested in the role."
Allison: "I don't do a ton of phone screens, but if I were to do one it'd be to assess if this person has the minimum requirements for me to want to meet them face-to-face. Personality is important as well, especially if they are applying for a job where they are going to be talking to clients on the phone."
Kate: "During our phone screens, I always keep it short because I am just trying to determine whether or not I want to bring you in for a longer conversation. I use the time to also explain a little bit about the role and gauge how engaged they are with the process. It's always interesting to hear when they have questions about Zola and want to know what teams they'd be working with."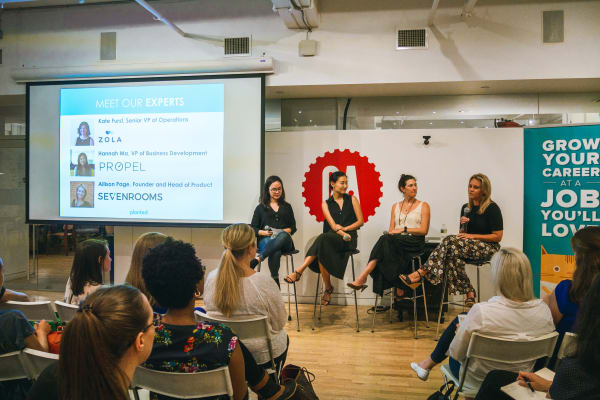 Photo credit: Bryant Magdael
On in-person interviews:
Allison: "You have to do a lot of things at a startup that you may not be comfortable doing, so my number one thing to ask myself is: 'Is this person a self-starter, proactive, and can they survive in an environment without direction or a lot of resources?'"
Kate: "We are bullish on our interview process. When we bring people in, they are brought in for a hiring panel. They meet with a cross-functional partner they might work with, a person who might be their manager, a person they might work in on their team, and a 'susser-outer' of what'd be like to work with them in the Zola universe. We want to make sure that the person we're hiring is willing to do a lot of stuff, come from a place of yes, and is interested in solving problems. If you have solved an problem in a fun and dynamic way and love a challenge, I will probably spend more time talking with you because I know that there is a potential for you to go somewhere."
On defining and determining cultural fit:
Hannah: "I heard someone once say that culture is the summary of behaviors that you exhibit or accept every day. At Propel, we have a open and transparent cross-functional discussion about everything. We do a panel interview which culminates in a lunch with everyone at the company to assess culture fit. Other than that, our values are written on post-it notes which all boil down to doing right by the user."
Kate: "We look for people who can really do the work. We have a no assholes policy and we mean it."
On red flags:
Hannah: "People who say that they are looking for a 'strategic role,' since literally every role is a strategic one. Hearing that makes me concerned that you're not going to be willing to do the grunt work that a startup job requires. Another pet peeve that I feel more conflicted about is when people quickly raise questions about what their title will be and what they will do on the job way too early on in the hiring process."
Allison: "One of my biggest pet peeves is any sort of complainer. We all have had issues at work before, like having a terrible boss or a crappy job, but I want to hear more about how you dealt with those challenges instead of just hearing your work drama. If you can talk about your past challenges in a constructive way, I can get a better idea of how you'd act at my company."
Kate: "It depends on the company and depends on the role, but the main red flag for me is someone who doesn't want to be a team player. This can mean different things, like someone who always wants to get credit for things. I believe that teamwork makes the dream work."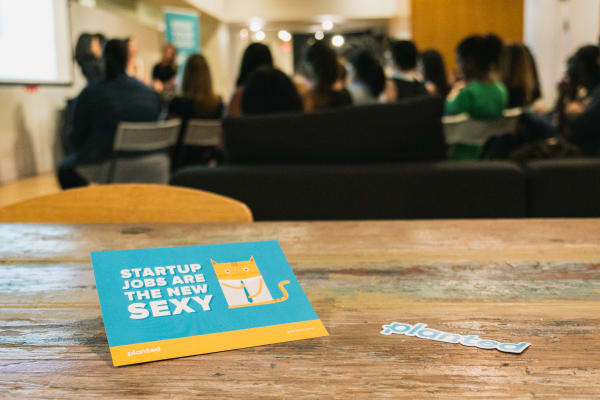 Photo credit: Bryant Magdael
On how women can break in and stand out at startups:
Hannah: "Persistence really matters. We have a young woman on our team–our data analytics guru—that's a year out of college. But when she applied, we weren't looking for a data analytics guru at all. We were looking for someone with digital media and ad ops experience. We had a really lovely phone screen, but I said, 'Look, you're great, but this doesn't fit what I am looking for.' Fast forward two months, and after having talked to a bunch a folks that were more specialists, I thought, 'Actually, we could bring on a generalist because our systems are different enough,' and I reached out the her. She would send me a really nice note every 3-4 months and let me know what she was up to. The second time we checked in, we figured we actually needed someone like her. She came in and said she didn't know anything about ad ops or digital media but that she could figure it out, and she has crushed it. Her confidence and persistence bowled me over and got me to bring her on."
Allison: "Women have a tendency to read a job description and be turned off by certain key words, but the truth is, what you really do at a startup can't be put into a job description. I would encourage you to look beyond the buzzwords. It's also hard to just apply to startups jobs on random websites. You have to get out there to talk to be people who are working in industries and at companies that you might be interested in to help you figure out what type of role is best for you."
Kate: "Go in super informed and be willing to try a lot of things. When I first started at Gilt Groupe, I had the amorphous role of just doing everything. But I ended up going down a path that was really interesting. I didn't know what I wanted to do, but I knew what industries interested me. I dipped my toe into something and really ended up growing from there. If you had asked me in college if I could see myself working in operations at a wedding company, I'd be like "I don't know what you're talking about.' If you open yourself up to other roles that may not even exist yet, really interesting things happen from there."
On how to find a startup job:
Hannah: "Read VC newsletters and scroll through their portfolio company pages. I did that. I found companies that interested me on those sites and then I would go on LinkedIn and either see if I knew someone who knew someone who knew someone at those places or cold contact people who had roles that sounded interesting to me."
Allison: "Attend events, read tech blogs, sign up for relevant newsletters, and talk to your friends working in tech."
Kate: "Make sure you are finding companies that are focused on things that you're actually interested in. If you hate weddings and find brides excruciating, but like some of the things that Zola is doing, you don't want to work here. What makes you tick? Is it food? Fashion? Then go down those rabbit holes. Be aggressive about reading publications that cover new companies, read up on what interests you, and before you know it you will just find all sorts of stuff about companies within that world."
On onboarding new employees:
Kate: "Manage up. If your desk isn't ready on the first day, just reach out and ask for the help that you need. Be the owner of that experience for yourself if the company is not doing it for you. If it is not being done for you in a great way, you decide what you need and put yourself out there to make sure that you are getting what you need."
Planted tip: Do the hard work once, but then write up a guide on how to do it so that the next person that comes along doesn't have the same experience that you did. And that is how processes are put in place!
Panelist answers have been edited for length and clarity.
Want to find a job you'll love? Sign up for  Planted  and get matched to opportunities at some of the coolest startups and other high growth companies.
Original header image by Bryant Magdael .