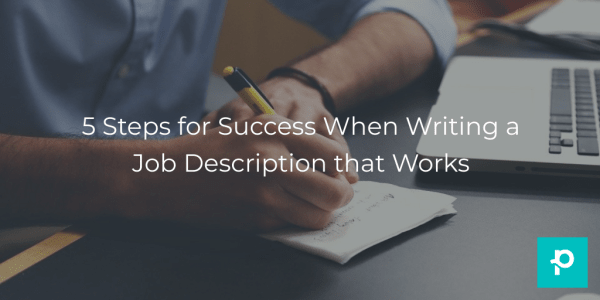 Someone wise once said, 'If you want to catch a big fish, you've got to use the right bait.' Similarly, if you want to attract top candidates, you've got to write a great job description.
Often times, your job posting is the first introduction a candidate has to your company — so it's important to optimize your writing to ensure you'll get the right candidates to apply. Back to our fishing analogy: if you want to attract the best talent, you've got to lure 'em in with a job posting that stands out. It may take a little extra time to perfect, but we put together this 5-step guide to help you get started. Sound familiar? We covered this topic back in 2015, but times are a-changin', so we're back with an update! Check out these tips for writing an all-star job description to attract the type of candidates you actually want to hire. 
1. Convey a passion for your mission and values
Don't just describe what your company does, let people know why you're so excited about doing it. Startups are known for being driven by hard work, caffeine, and passion, so make sure that shines through. The word choice you use here will also give prospective candidates an inside peek at your culture because, after all, how we talk says a lot about who we are. The language you choose here should be indistinguishable from your brand voice; when candidates know how to talk your talk, they're more apt to learn how to walk your walk, too. Take this job description from TransferWise, for example; they've done a great job at using language and tone to show off their personality and the values that are important to them. 
Don't be afraid to (briefly) tell candidates what inspired you to get started, what values are important to you, and the impact you hope to make on your industry — or the world. The long and the short of it is: if you're not passionate about what your company does and how you do it, how can you expect to attract passionate people to your team? 
2. Lay out expectations, responsibilities, and impact
This one might seem obvious, but when you start writing, make sure to lay out the day-to-day responsibilities of the position and goals that potential employees can expect to have on their radar. Don't just write a laundry list of common to-do's, but illustrate how these tasks function to achieve your company's goals. The idea is to let candidates know what they're getting into up-front, so they know for sure whether or not the position is right for them. 
Make sure to illustrate the impact this position has on the company overall. This will help candidates see the bigger picture and where they fit on the team. Candidates look for a company where their work will be valued and make a difference, so make sure to let them know how their role will directly help you achieve your goals. When you focus on impact, it not only lends context to the purpose of the job, but inspires an overall sense of understanding of why the work is so important.
3. Keep it simple 
A surefire way to lose the attention of a potentially promising new team member? Using complicated wording that makes the job seem a lot harder than it really is. This may seem like a strategy to make sure you're only attracting candidates that speak your language, but in reality, you might just be confusing them. A recent survey revealed that up to 48% of recent graduates don't understand the role they're interviewing for. 
When you use complex or industry-specific jargon in a job posting (especially for junior positions), you're increasing the chances that your candidate doesn't really understand what the job entails. Research shows that the most readable job postings are those written at about an eighth-grade reading level. However, most companies make the mistake of posting job ads that read at an eleventh-grade reading level or higher. Even if you're trying to snag a technical candidate with an advanced degree, most job seekers are busy and may only spend a minute or two reading the job description, so it's important to keep your wording straightforward and simple.
4. Get candidates excited!
That's right, we're talkin' about perks. Like we said before, what you write here needs to make a great first impression, so spend some time talking about things that would get you excited as a job seeker. 
Research from our 2019 Talent Trends Report revealed that remote flexibility is so important for job seekers that 70% of candidates would take a pay cut to work from home. Even if you don't offer a remote option, letting candidates know what they'll get (in addition to a job they'll love) is imperative. With so many jobs available, you'll want to highlight the unique benefits that set your company apart from the rest. Here are a few examples: 
Quarterly company events, happy hours, and retreats

Commuter benefits

Office dogs and a casual dress code 

Covered health, dental, and vision insurance

Free catered lunch every day plus a fully-stocked snack kitchen and coffee bar
Finally, feel free to include any fun and interesting accomplishments your team has achieved. Don't be afraid to toot your own horn a bit here; if your company has earned press attention or won industry awards for standout work, job seekers want to know! 
5. Avoid extreme or gendered language 
Wouldn't it be a bummer if the perfect candidate read your posting and was left with a bad taste in their mouth? Or worse, made them think, "Well, I guess they're not looking for someone like me."? A subtle misstep in word choice can end up excluding rockstar candidates from your pipeline.
For example, avoid using words that indicate you're looking to hire someone of a specific gender; the goal here is to make sure your posting is as inclusive as possible. Often, innocuous terms like "guys", "chairman", or "workmanship," in a job description may lend themselves to an overall masculine tone, deterring female candidates. On that same vein, avoid using words that lend themselves to stereotypes. Words like "competitive" or "dominant" are often associated with an aggressive presence. Try out "relentless" or "motivated" instead. 
A tool we love for double-checking job postings for exclusive language is Joblint. They'll run your entire posting through their platform to check for language pitfalls, ie; issues with culture, sexism, and expectations. Once you get the green light from Joblint, you can be sure that the language in your posting is good to go!
Now that you've got the making of an all-star job description, get ready to see quality candidates fill your pipeline! By focusing on your company mission and values, clearly detailing job and role expectations, keeping your language simple and fostering inclusivity, you can be sure that your job descriptions will attract the type of candidates you're looking for. For more tips on how to attract top talent, check out some of our other guides on the blog!